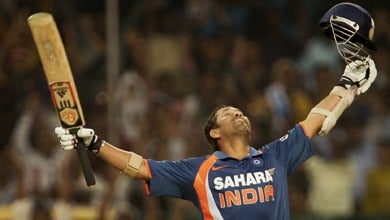 Screw the worldwide economic meltdown! The Indian Premier League is expanding and two owners just paid $700 million for the right to buy in—or more than it would have cost to buy the entire league two years ago.
The IPL plays Twenty20 cricket, which is the speedy three-and-a-half hour version of the game that all the kids love so much. It's only been in existence for two years, but the league has grown so fast that they're adding two new teams for 2011 and the auction price for a franchise is now four times what the original teams paid when the league formed. And they said Mukesh Ambani was crazy when he spent 441 crore rupees for the Mumbai Indians! (Not a very original nickname, actually.)
The price of the new teams converts to roughly 370 and 330 million USD give or take, which is more than the price paid for the original eight teams combined. In fact, that makes the new Pune franchise (theoretically) more valuable than almost half of Major League Baseball squads, three-quarters of the NBA and all but two NHL teams. Even though the IPL only has $43 million in total revenues. Yay, unrealistic market valuations!
But hey, you got to spend money to make money, right? I'll just call my broker over at Lehman Brothers and see what he says. I haven't spoken to him in a while; I wonder what he's up to?
2 new IPL teams cost more than first 8 squads together [India Times]
Twenty20 Cricket Expands Richly As IPL Bandwagon Rolls On [Forbes]