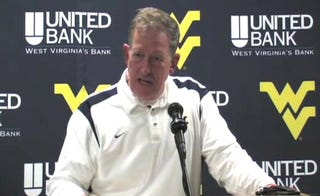 One might say that Bill Stewart is heavily invested in the state of West Virginia: Not only does he coach the Mountaineers, but he was born and raised there. The following video doesn't quite rise to the level of a Jimmy Patsos email, but it's head-scratchingly wonderful nonetheless.
Not shown: All the comical question mark symbols over the writers' heads.
Your Photoshop challenge for today: Work up a West Virginia license plate with the words Enough Oil To Lubricate The World as the state motto.