A couple of weeks ago, a group called the Elephant Protection Association (EPA) sent an email to a Maryland woman with elephant-hugging tendencies after she'd registered for membership online. There was an important measure coming before the General Assembly in Annapolis, HB713, which would restrict the sale of ivory in the state, and the EPA wanted its members to be ready for its March 4 hearing.
For about the last 10,000 years, ever since the woolly mammoth went extinct, man's only real source of ivory has been dead elephants. So the woman—an animal-rights volunteer who requested anonymity out of fear of the anti-elephant crowd—said she was flummoxed to read that the Elephant Protection Association was asking her to help kill the bill.
Rob Mitchell, the EPA's founder and leader, wrote that the proposed law "strips commercial value from legal property for no rational reason" and "wastes resources hurting Americans without doing anything to help elephants in Africa." He urged the would-be elephant protector to "please contact Shannon Alford ... who is coordinating our effort to put the best possible presentations together for the legislature."
Claiming that ivory bans don't protect elephants is not the typical elephant-conservationist position. But Alford isn't your typical elephant conservationist. Advising the EPA is a sidelight to her main job as a staff lobbyist with the National Rifle Association. Her profile photo in a directory of lobbyists shows her posing with a smile and a gun, the latter of which looks stout enough to bring down the biggest jungle creature.
Elephants are big, but not big enough for the gun lobby to hide behind. The NRA and other pro-weapons factions have left so many Dumbo-sized footprints on the EPA that its slogan might as well be, "Guns don't kill elephants. People do."
---
Elephant advocacy has picked up globally since the summer of 2013, after more than 300 elephants were reported killed in Hwange, a national park in Zimbabwe, by poachers who'd poisoned a watering hole with cyanide and harvested the victims' ivory.
Months after the mass killings, the U.S. Fish and Wildlife Service oversaw the pulverizing of a six-ton stockpile of poached ivory. That event served as a sort of kickoff to the Obama Administration's plan to help elephants through the implementation of new restrictions on the ivory trade, including bans on commercial imports of African ivory and on interstate sale of all non-antique ivory, meaning less than 100 years old. The White House also reclassified African elephants as legally endangered—the species' survival status was labeled as merely "vulnerable" by the World Wildlife Fund before that tragedy—and limited hunters to bringing two African elephant trophy kills per year per hunter into the country.
While the stated goal of the edicts was to reduce domestic demand for ivory, there's also an appearance component. America remains the second-biggest ivory market in the world, behind China. The elephant-hugging crowd says that until we show seriousness about cutting back our consumption, we can't jump on a high horse and ask China to change. (There is an anti-ivory faction in Beijing, also: Yao Ming made a short movie about seeing the slaughter of elephants in Africa, and has very publicly asked the Chinese government to ban ivory sales.)
The Elephant Protection Association was one of several ostensible animal conservation groups established in the wake of the Hwange massacre. Its aims aren't as obviously pro-elephant as its name, however. The group's lobbying efforts and personnel indicate it's far more concerned about protecting the right to bear arms and sell dead animal parts than with saving a single pachyderm.
The elephantprotection.org domain was registered in April 2014 by Rob Mitchell. The Pennsylvania address he gave on his registration and the contact phone number both show up on the registry of licensed firearms dealers maintained by the Bureau of Alcohol, Tobacco and Firearms.
Various businesses and organizations connected to Mitchell and his wife, Tira Mitchell, are located at that same dwelling, including an engraving business that works with guns. Tira Mitchell's bio names her as a treasurer of the Firearms Engravers Guild of America. She's also a member of the Ohio Gun Collectors Association. and an NRA cheerleader. Here's a thread she started on an engravers' message board before the NRA's 143rd annual meeting, held last year in Indianapolis titled, "Anyone Going to the NRA show?" (Spoiler alert: She was going!)
The NRA has not hidden its distaste for Obama's ivory ban. The way the gun group sees things, the measure was really another edict aimed, ultimately, at taking away guns. Some parts on old firearms, including sight beads on shotguns and handles on revolvers, were made of ivory; the inter-state ban on ivory sales took away much of those weapons' resale value. "This is another attempt by this anti-gun Administration to ban firearms based on cosmetics and would render many collections/firearms valueless," said the NRA in a press release last year, after the federal ivory restrictions were announced.
Alford says she got involved with EPA because the state ivory ban legislation "crosses over into my wheelhouse."
"My mission is to defend the Second Amendment and heritage sports, including hunting," she says.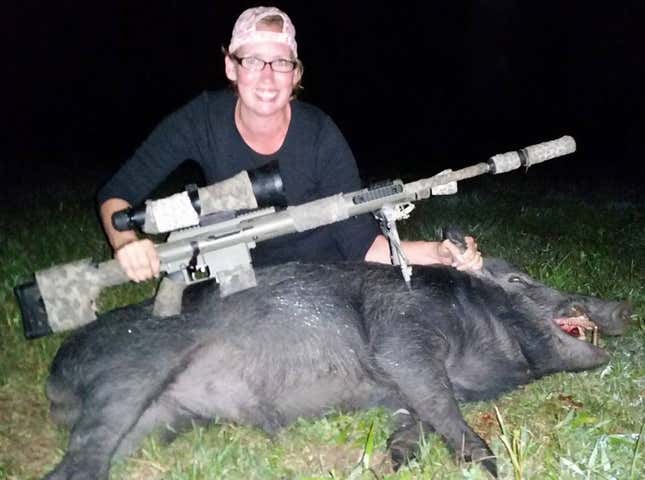 Shannon Alford of the NRA enjoys a heritage sport. Photo via Facebook
---
There's no trace of the NRA on the EPA web site. But it's no mystery as to why a group hoping to attract elephant lovers would downplay its associations with the NRA. In 2013, while the world was just learning about the Zimbabwe slaughter, NRA lobbyist/mouthpiece Tony Makris made an appearance on The National Rifle Association's Under Wild Skies, a hunting show he hosted on NBC Sports Network, gunning down an elephant in Botswana with his .577 "Tyrannosaur" rifle. As the cameras rolled, Makris giggled about killing the animal in its "bedroom," posed with the big, bloody carcass, and generally came off as a heartless, gutless meanie.
While getting pounded in the press, Makris went on Cam & Co., another NRA-sponsored television show, to accuse critics of "animal racism," saying that nobody had a right to be more appalled by him hunting elephants than they were by him hunting other living things.
"Anything can be killed," Makris said. He then compared all his detractors to Hitler. NBC canceled his show.
Mike Paredes, an Annapolis, Md. resident who supports the ivory bill, says the mass poisoning at Hwange got him involved in animal activism. He's a pilot by trade, and during several trips to Africa had taken photos of elephants, including shots of thriving herds at the deadly watering hole a year before the slaughter. He has trouble processing anybody's desire to shoot the massive creatures.
"An elephant is huge, and moves so slow, I can't believe they call it a sport," he says. "I'm not anti-hunting. A deer in the woods and you're in a blind, I get that. Hunting an elephant, it's like running somebody over with a car on purpose."
---
The EPA's Rob Mitchell himself has sided with animal killers over the animal kingdom. The law firm he founded, Corr-Mitchell, has produced a form letter that can be sent to the U.S. Fish and Wildlife Service protesting the ivory ban. Mitchell's firm filed a federal lawsuit last year on behalf of the Philadelphia Gun Club and its members against an organization called Showing Animals Respect and Kindness (SHARK). A story about the suit in the Pennsylvania Legal Record named Pennsylvania as the only state where "shooting pigeons strictly for sport" wasn't banned. SHARK members had been protesting at organized pigeon shoots. The complaint in the suit accused the animal rights group of committing "emotional violence" against the bird shooters.
Mitchell advocates for other forms of weaponry, too. When the U.S. Fish and Wildlife Service held a public hearing on the proposed ivory ban in March 2014, Mitchell registered himself as a representative of Knife Rights Inc. Two NRA lobbyists, Ronald David Frash III and Brian Calabrese, were registered for the same D.C. meeting. That same month, National Journal ran a story on Knife Rights saying it was "patterned after the National Rifle Association."
The Knife Rights web site features a handful of celebrity endorsers, including NRA chairman Wayne LaPierre and Ted Nugent. "God Bless Knife Rights!" reads Nugent's blurb.
Elephants wouldn't likely consider Nugent a friend. In an interview with the Lawrence Journal-World in 1999, he told of just coming back from Africa after killing his first elephant. "It was a harmonic convergence of all that's organic," he said of the big kill. And on his own web site, Nugent now has posted a menu of big game hunting trips to Africa offered for 2015, with the cost of each junket varying depending on what sort of killing you want to do while there. For example, for $6,500, Nugent will sell you a five-day hunt that will guarantee you take down "5 Blesbuck, 5 Impala, 2 Blue Wildebeest, 2 Red Hartebeest, 2 Zebra." And for $8,000, Nugent will make sure you bag "1 Trophy Hippo." (Airfare and taxidermy are not included.)
"Elephant, Lion, Leopard also available at clients request!" Nugent's site boasts.
Two months after publicly representing Knife Rights, Mitchell appeared on Cam and Co., the NRA talk show. He was joined by Doug Ritter, executive director of Knife Rights. But Mitchell identified himself for this appearance as the co-founder of the Elephant Protection Association. Mitchell, Ritter, and the show's host, Cam Edwards, agreed that the administration's ivory restrictions were actually anti-weaponry—and were, as Mitchell said, "structured to go after innocent Americans in the United States."
"It's being passed on a very sympathetic plea to protect elephants," Mitchell said. "But the way it's going to be enacted, the mechanisms that are being built are designed to hurt Americans, to make examples, prosecutions in the United States that can then be flaunted to Asia."
Edwards got his guests to agree that the ivory ban was really an anti-hunting measure. (In March 2014, Edwards hosted an episode of Cam & Co. titled,"We Should All Support Elephant Hunting.")
Mitchell wrote a letter on behalf of EPA last year to New Jersey Gov. Chris Christie urging the governor to help overturn federal and state restrictions on ivory trading, arguing that the pro-ban crowd had exaggerated the amount of elephant poaching that takes place and its impact on the species.
The U.S. government's estimate that 35,000 elephants were slaughtered in 2012 is wrong, Mitchell wrote, adding that the correct figure is "22,000 in 2012." The status quo levels of poaching in Africa, Mitchell asserted, "will not likely result in net population declines for elephants."
Odd aside: Mitchell registered the domain for elephantprotection.org via GoDaddy. That seems a fine fit. Bob Parsons, the CEO and founder GoDaddy, posted a graphic video on his personal blog in 2011 of him killing an elephant as part of an armed mob in Zimbabwe.
The video features many still photos of him smiling while sitting on the dead animal, and an assertion that nothing in life was as satisfying as killing elephants. "Of everything I do," Parsons says, "this is the most rewarding."
---
Mitchell's EPA co-founder, Doug Bandow, is also a big gun guy. He's a senior fellow at the Cato Institute, an allegedly libertarian think-tank that always sides with firearms interests. Until the Obama administration got involved in the ivory trade, there was nothing in Bandow's portfolio that indicates he gave a hoot about elephants. But he's always cared a lot about guns. A quote attributed to Bandow appears on lots of Second Amendment sites, including The Patriot Post: The Voice of Essential Liberty:
Gun control has proved to be a grievous failure, a means of disarming honest citizens without limiting firepower available to those who prey on the law-abiding. Attempting to use the legal system to punish the weapon rather than the person misusing the weapon is similarly doomed to fail.
Bandow has supported NRA positions during the toughest of times. Among Bandow's think-pieces, for example, is a February 2013 take on the Newtown Massacre titled "Gun Rights and Liberty Go Hand in Hand." Bandow urged Congress to do nothing in reaction to the Connecticut grammar-school slaughter. Research, he wrote, shows that "gun possession can promote liberty, better enabling people to resist both foreign and domestic oppression."
Amid all the guns and ammo backers, there is one—and only one—EPA official who has any history with elephants: Daniel Stiles, a U.S. born, 69-year-old anthropologist who has lived in Africa for decades while consulting with the United Nations and other groups on animal conservation matters. Stiles, however, fell out of favor with the mainstream elephant-saving community when he started arguing against the ivory bans. He wrote a piece for National Geographic last year predicting that putting restrictions on ivory will increase demand for the raw material, and therefore lead to more poaching. Geographic soon after published a rebuttal article in which 24 elephant conservationists blasted away at Stiles' assertions and logic.
Oddly, both sides in the ivory debate are now using his work. Mitchell cited Stiles' during his appearance on NRA's infomercial Cam & Co. Then in January, the National Resources Defense Council, an environmental advocacy group, published the results of a long study conducted by Stiles about the sale of poached ivory in California.
NRDC made Stiles' research the centerpiece of a push in California to pass AB 96, a very restrictive ivory ban bill. The group said his inquiry uncovered "that much of the ivory being sold in the Golden State comes from recently killed elephants and is directly tied to their massacre on the other side of the globe." The NRDC press materials on its ivory ban campaign do not mention Stiles' role with EPA, or his anti-ban advocacy.
"Daniel and NRDC disagree on the policy approach to the ivory trafficking issue," says NRDC spokesperson Kimiko Martinez.
Stiles, now based in Kenya, says via email that he has never had any ties to the National Rifle Association, is not a hunter and does not "buy or use firearms." He is aware, however, that EPA is in bed with the gun group. He says he is not entirely comfortable with the collaboration, "but they are being used to achieve other objectives." Asked if he thinks the NRA is sincerely concerned about elephants, Stiles responds, "Probably only to conserve trophy bulls."
The NRA's Alford confirms Stiles' theory.
"We're interested in conserving elephants, and wildlife," Alford tells me. "Because it's important to maintain that wildlife in order to enjoy that wildlife."
By "enjoy," I ask Alford, does she mean "hunt?"
"Yes," she says.
---
Contact the author at dave.mckenna@deadspin.com.
Art by Jim Cooke, photos via Shutterstock.