If there was one thing the ongoing Colin Kaepernick unemployment saga really needed, it was a flaccid, incomprehensibly contrarian op-ed in the dear old New York Times. Boy does this one, from Colin Fleming, not disappoint:
We don't do this enough anymore. We don't ask the tough questions. We seek to align ourselves with what I think of as the 'control voice' — whatever piped-in monotone is dictating a given narrative at the moment. It's easy to feel good about yourself when you're patting yourself on the back for your inability to never fail to take the moral high ground, which everyone who agrees with you reinforces and enables, one Facebook 'like' at a time. But there is nothing real about that.
Fleming's argument is that Kaepernick's cause is a good one, but cannot be assumed to account for his inability to find work in the NFL, because he is also not clearly among the very best quarterbacks in the NFL, and men who are not clearly among the very best quarterbacks in the NFL obviously are not good enough to find work in the NFL.
It's not hard to make a statistical case for why Kaepernick is not playing now. He threw for a mere 187 yards a game last season, which was good enough for 30th (in a league of 32 teams). For his career, he has completed fewer than 60 percent of his passes. Last season, 24 passers completed more than 60 percent. Kaepernick, at 59.2 percent, was ranked 26th. If you're below 60 percent, you're a fringe guy.
Now that Fleming has carefully and powerfully laid out a case for why guys like Kaepernick, Brock Osweiler, Blake Bortles, Robert Griffin III, Ryan Fitzpatrick, Cam Newton, Matt Cassell, Geno Smith, Dan Orlovsky, Blaine Gabbert, Bryce Petty, Mark Sanchez, Jared Goff, Josh McCown, Cardale Jones, Matt McGloin, and EJ Manuel are all statistically unworthy of training camp invites, let alone actual roster spots, he goes on to add some savvy eye-test evaluations of his own:
More damning, Kaepernick was not asked to make difficult throws; he's not a Matt Ryan-type quarterback, slinging the ball far down the field on deep crosses or challenging out routes. In the current iteration of the N.F.L., offense rules the day, with quarterbacks tasked to put up crooked numbers on the scoreboard. Kaepernick's job was to be a game manager, making the easiest, high-percentage throws. And he still struggled. What are you supposed to do with a guy like this? What can he do for you? Can he help you win?
G/O Media may get a commission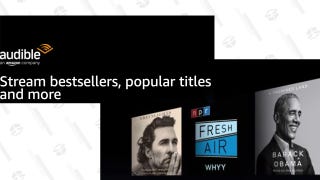 FREE
Audible Premium Plus 3-Month Free Trial
This is good—after all, if a guy isn't helping your offense gobble up chunks of the field, how useful can he be? And Kaepernick's 6.7 yards-per-attempt don't exactly blow your hair back the way, say, Kirk Cousins's 8.1 yards-per-attempt do. This is helpful in explaining why everyone who managed a lower yards-per-attempt than Kaepernick in 2016—guys like Fitzpatrick, Bortles, Carson Wentz, Joe Flacco, and Eli Manning—are similarly unable to find even a long-shot opportunity to extend their NFL careers in 2017. Too bad for them.
Fleming does allow that if—if—Kaepernick deserves a shot in the NFL this season, it would be as a backup quarterback. But this simple matter—whether a man is being denied a chance to continue his career because he demonstrated against systemic racism and police brutality, a life-or-death issue that is apparently less important to NFL fans than a symbolic gesture of devotion routinely skipped by fans waiting in line for nachos, or, for that matter, in their living room—isn't Fleming's real concern (this is, after all, the New York Times we're talking about):
The older I get, the less I care about football, but I do care about merit, and things being seen for what they are. 'Life is,' as Dostoyevsky wrote, and it is our job to figure out what the 'is' is. I believe that's one of the core responsibilities of being human.

[...]

It doesn't matter that Kaepernick doesn't have a job; it matters that so few people even wonder if there might be a non-disgraceful explanation. We have become the anti-meritocracy. We resent those who outperform us, outwork us, outproduce us. And the person who has been perceived to have been slighted? He is whom we now adore.

I'd like to see Kaepernick get a job, because I find him interesting, and I'd like to see if he can solve the flaws in his game as he nears 30. But I'd like even more to see all of us challenge ourselves more, in ways that are more important to the world, and to ourselves, than whether or not someone gets a job taking an ill-advised sack, or throwing the ball out of bounds so he can live to play another down.
So, on the one side of this struggle, you've got common sense, which tells you that Colin Kaepernick's production as a quarterback in his most recent stint in the NFL places him solidly at the lower end of NFL starting QBs, but certainly among the few men on earth who are qualified to play the position in the NFL; you've got quarterback peers, like Aaron Rodgers, who would know a thing or two about quarterbacking; you've got linebackers, like Brandon Marshall, whose job it is to harass and disrupt quarterbacks; you've got defensive backs, like All-Pro Richard Sherman and Pro-Bowler Malcolm Jenkins, whose job it is to cover wideouts and disrupt the passing game; you've got two of his former head coaches in San Francisco; you've got Pete Carroll, whose Seahawks played against Colin Kaepernick in eight regular season games and an NFC Championship; you've got the head of the NFL players' union; you've got the hilariously fraught, cowardly indecision from Baltimore management; and you've got the employment opportunities given to guys like Keith Wenning, and Ryan Mallett, and Brock Osweiler, and Dan fucking Orlovsky. This side says the reason Colin Kaepernick has not even had an opportunity to play his way onto an NFL roster during training camp and the preseason is definitely not because he isn't good enough at playing football.

Then, on the other side, you've got a group of NFL executives who were so sure of and committed to the righteousness of their assertions that they needed anonymity in order to provide them; you've got Jerry Jones, pillar of honesty and virtue; you've got this random internet jackwagon; you've got Joe Montana, who compared Colin Kaepernick—a career 59.8 percent passer—to Tim Tebow—a career 47.9 percent passer—in order to make a point about inaccurate passers flaming out of the NFL; you've got a million jersey-clad buttheads who'd rather leap into a volcano than articulate an opinion that indicts The Shield, many of whom, I'm sure, you will find in the comments of this very blog; and you've got Jason Whitlock. This side says the reason Colin Kaepernick has not even had an opportunity to play his way onto an NFL roster during training camp and the preseason is definitely because he is actually worse at playing football than Keith Wenning, Ryan Mallett, Brock Osweiler, Dan Orlovsky, Austin Davis, Geno Smith, Drew Stanton, and so forth.
To this latter side you can now add the New York Times op-ed page, the recent landing spot for such wise and necessary opinions as Please Let My War-Profiteering Operation Wage Endless War In Afghanistan and Actually America Is Great Because White People Can Monetize The Culture Of Racial Minorities. Please go to bed forever, New York Times opinion contributors.