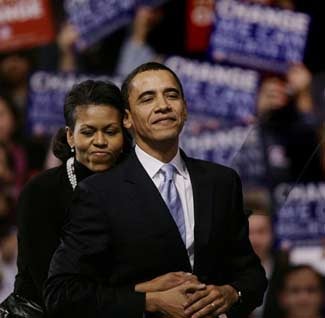 For perspective of just how long this Democratic primary process has gone one, the day Sen. Barack Obama announced his candidacy for President in Springfield, Illinois (just 80 miles from Mattoon!), the Indianapolis Colts had just won the Super Bowl and all the buzz was whether or not Barry Bonds would really come back to break Hank Aaron's home run record. It's 16 months later, and finally, the first part is over. And we're left with a couple of candidates who have quite the connection to the sports world.
Obama's love of basketball is well-documented — amusingly, almost everyone who talks about his game makes clear that he plays hard but is not, in fact, particularly talented — and he's also a diehard White Sox fan. (And not afraid to show his Bears fandom either.) Sen. John McCain is a Diamondbacks fan — not, alas, a Buzzsaw fan — and has worked for years to clean up boxing.
You can expect both to draw on the sports world in the coming months, but Barack, we gotta say this: We've supported you from the get-go, and we've even given your campaign money, but swear to God, if the Cubs make the World Series, and you start touting that during the campaign, we're voting for Bob Barr.
OK. We're not voting for Bob Barr. But still: Don't do that. And hey, worse case scenario, you can always have your name on the ballot like this.