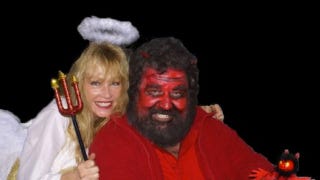 Chuck Blazer, if you recall, is the FIFA executive who went public with bribery accusations against Mohammed bin Hammam, the only rival to Sepp Blatter during FIFA's presidential elections. (The charges torpedoed bin Hammam's candidacy.) Blazer is also the number two at CONCACAF. But not for long. The massive American announced today that he will be stepping down from his CONCACAF post on December 31, most likely during an orgiastic binge of food, drink and holiday lucre. A clove-studded ham? Gold bullion? Not even the IRS knows what the big man is hiding in that beard.
Blazer will, however, remain a member of FIFA's executive committee, which means that he's absconding only from CONCACAF, not international soccer. The timing is curious. Blazer is currently under investigation by the FBI for unusual financial dealings related to his work at CONCACAF, according to both British journalist Andrew Jennings and Reuters. We're talking offshore bank accounts, shell companies, strange television contracts. Fun stuff.
We've subjected poor Chuck Blazer to some ridicule here at Deadspin. But that's because Blazer has a look-at-me blog where he posts photos of himself enraptured by famous people or posing in silly costumes. He also lives in the Trump Plaza, travels in vans because he can't fit in FIFA town cars and has a pet parrot. (We approve of the parrot.) We do so hope that all the clamor will not stop Blazer from blogging things like his high school yearbook photo or his recent visit with Liela Lopes, Miss Universe 2011.