The Globe and Mail's James Mirtle wrote a piece this weekend on the potentially catastrophic effects of mouth injuries in the NHL and the "walk-it-off" culture surrounding them. Who's ready to grimace and suck their teeth in fear?
According to Mirtle, team dentists estimate that only about half the players in the league wear mouth guards. During a first-round series against the Canadiens, Capitals center Eric Belanger took a Kevlar-wrapped high stick to the mouth from Montreal's Marc-André Bergeron, plucked the tooth out on the sidelines, and got back into the game for 10 agonizing minutes, during which he swallowed so much blood that he felt nauseated.
The final diagnosis for Belanger: a torn labial frenulum (a muscle attachment) around his lip and seven lost teeth.
The Blues' Keith Tkachuk was even less lucky when he deflected a shot off of his face (for the goal), shattering his upper jaw in the process.
Sitting behind the Blues' bench, as he has for the past 20 years, Edwards saw the play unfold and rushed down to the tunnel at ice level.
"He was in agony," Edwards said. "He couldn't walk, he was in so much pain."

Edwards had saved many players' teeth by reinserting them immediately. With Tkachuk, that wasn't an option.

"There wasn't any bone left to hold the teeth in," Edwards said.

While Tkachuk's injury was only a footnote in most game stories, Edwards spent three hours that night picking fragments of bone and teeth from his mouth. Tkachuk's surgery this week involved a transplant of bone from his hip to restore his upper jaw. If that process is successful, false teeth will be implanted when the area is healed.
G/O Media may get a commission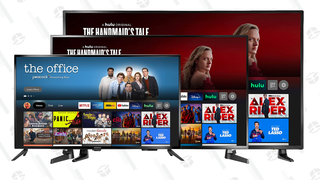 Up to 44% off
Prime Early Access - Insignia Fire TVs
Tkachuk ended up returning to the team a week and a half later, six teeth lighter.
Team dentists the league over are most flummoxed. Players undergo serious dental work during a game and return to the ice without hesitation, while any other serious injury would send them to the locker room and perhaps even the nearby medical center. That shouldn't be all that surprising, though. A mouth injury is going to be painful, but it's not going to prevent you from skating, checking, passing, and shooting, and the players and coaches know this. It's hockey. Any injury that can be shrugged off will be shrugged off.
There's little the NHL can do about this, short of a crackdown that would make the game less enjoyable. A five-minute major or game misconduct for high-sticking would become the NHL's face-mask penalty. Fiberglass, Kevlar, titanium and carbon-fiber hockey sticks aren't going away any time soon. Well, maybe we can get rid of the Kevlar ones. Full-coverage face masks, be they wire or plexiglass would be ideal, but can you really imagine anything like that becoming widely used or accepted? There are purists around who scoff at the use of any helmets at all. The best chance the league has of curbing these injuries is mandatory mouth guard use and perhaps a rule that anyone who gets an in-game root canal has to sit the remainder. I am fully prepared to backtrack on that statement when Dustin Byfuglien loses his mandible on a one-timer in Game 2.
A sport with teeth [The Globe and Mail]
*****
Thank you for your continued support of Deadspin. Dash has got your back for the rest of the night.