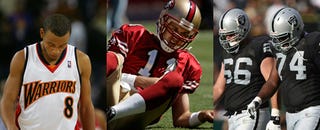 It's been a rough couple of weeks for sports fans in the ol' Bay Area. The Warriors look to have lost last year's sexy playoff mojo; the 49ers are struggling to even notch a 100 yards per game; and the Raiders keep finding (fairly impressive) ways to giveaway football games.
But still, I had no idea it was this bad:
During the month of October, not one sports team in the 415 or 510 area code won a single game. (And November ain't off to such a hot start either.)

• A's: n/a
• Giants: n/a
• Warriors: 0-3.
• 49ers: 0-4.
• Raiders: 0-4.
• For the heck of it, we'll even toss in Cal football: 0-3.
Note to Green Day: Let's wait 'til October ends to wake the Bay Area. Ugh.
The Bay Area Did Not Win A Professional Sporting Contest In October [Say Hey]