Despite the headline, this isn't a hot take. I'm not trying to convince you of anything. It's a statement of fact, really: given Beckham's increasingly violent tantrums, culminating in a legitimately dangerous after-the-whistle hit on Josh Norman, he had absolutely no business being in that football game.
Beckham claimed the frustration got to him. The Panthers were up 35-7 (the Giants would later mount a furious comeback, to tie the game on Beckham's touchdown with Norman in coverage, but lose 38-35 on a last-second field goal) and Beckham had been held without a catch in the first half.
"We're getting our tails kicked, and no one cares" Erin Andrews claimed Beckham was yelling on the sideline—though he probably didn't say "tails." But if you're disappointed by your teammates, or you want to fire them up, you don't repeatedly go after the corner who'd kept you in check for a half-plus. You don't rack up four penalties. You don't do this:
Earholing Norman should have been the last straw, for both Tom Coughlin—Beckham was actively hurting the Giants at that points—and for referee Terry McAulay's crew, which had let things get out of hand from the very first drive and watched them disintegrate from there. The only possible explanation is that the officials didn't see the enormity of Beckham's helmet-to-helmet on Norman, though they did throw a flag for unnecessary roughness on the play.

G/O Media may get a commission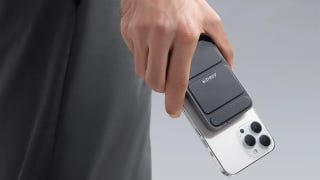 15% off
15% off Anker Top Ten Products
Take charge
Treat yourself to a portable power bank, a magnetic wireless battery for iPhones, or even a solar generator. There is a reason these are in the top ten. For instance, the Anker 747 Power Bank is a 4-in-1 charger utilizing USB-A and USB-C to be capable of charging up to four devices at once. Great to take with you when traveling and in need of keeping your phone, laptop, and even Nintendo Switch powered on.
A league office source tells Pro Football Talk that the NFL believed Beckham should have been ejected on that play. I don't know how you can reasonably argue with that.
Beckham had very little to say to reporters after the game, though he reportedly apologized to his teammates at halftime for his behavior. (Yes, the hit on Norman came in the third quarter. So much for that apology.) Norman had plenty to say.
Norman, fresh off the win that moved Carolina to 14-0, said the game revealed who Beckham really is.
"You're going to be Michael Jackson and go around and dancing and playing and a lot of other stuff and not be a football player and not train the way you're supposed to train. It goes to show. I hope I pulled that mask off. I pulled back the face of what that dude really is. You want to play football, play football. Don't come out here and do all that extra stuff."

[...]

"You going to get out here, and you're going to dance around and prance around like you're a ballerina, that goes to show you," Norman said. "When you cut back layers, you see. Everybody saw that live on national TV. There's nothing that I can show that he hasn't already been exposed."
Beckham's reputation as a talented, demonstrative, good-natured star has taken a big hit. I don't think this proves he's a "coward," as has been written or that this could "derail his career"—or his marketability. It did reveal that he may not handle adversity very well; this was the first time in his career he'd been shut down, and this is how he reacted. Perhaps most ominously for Beckham going forward, he's given the league a blueprint on how to take him off his game.
So, what next? Beckham will surely be fined by the NFL. Will he be suspended? Adam Schefter says it's on the table.
I don't buy it. You could argue that the league would want to make a strong statement condemning that sort of helmet-on-helmet hit in a week when Concussion is set to be released. Optics, you see. But if the NFL cared all that much, it wouldn't still have Elliot Pellman—who led the league's assault on concussion science for years, and is one of the film's villains—still working with its concussion spotters.
The Giants play the Vikings next Sunday night, and there's literally no reason to tune in other than Beckham. I can't see the NFL keeping its biggest star out of its week's most-watched game. I hope I'm wrong.