Welcome to the Deadspin 25, a college football poll that strives to be more democratic and less useless than every other preseason poll. Leading up to the college football season kickoff, we will give you previews of the 25 teams that you, the readers, voted to be most worthy of writing about. Now, No. 8 Memphis. 

Let me tell you about Memphis.

To lots of folks, including the average college football fan, Memphis is on the periphery of their fandom—they're aware, maybe, that the team wears royal blue and has had some fun offenses in the past, but that's about it. It's basically the relationship every top-tier AAC team has with the national scene; every few years, one or two will take that extra step and force the Power Five to take notice before another team in the conference takes their place a season later. I fell in love with the 2004 Memphis team thanks to a college football video game; neither my brother nor my friends would ever want to be Memphis, so I'd always go with them, knowing full well that Danny Wimprine was a little too loose with the ball and didn't have the best downfield threats. But all I had to do was dial up a toss or power play, mash sprint like crazy, and let DeAngelo Williams cook; all of sudden, I had an odd new favorite.
But Memphis, at least the 2017 version, is so much more than a random average team on a video game. This year's team is built on hidden gems, misfit toys, and recycled, thought-to-be-has-been transfers—it's a delight. Two years ago, though, it wasn't clear what shape the Tigers would be in come 2017. Justin Fuente made his name shaping the Andy Dalton-led TCU offenses as Gary Patterson's co-offensive coordinator before he took the Tigers from seven combined wins in his first two seasons to 19 wins in his last two. At the end of the 2015 regular season, Virginia Tech snapped up what was then the nation's hottest upward-moving coach to replace Frank Beamer, leaving Memphis in the hands of Mike Norvell, then the youngest head coach in the FBS.
Before he was brought on, Norvell was cranking out high-scoring offenses for Todd Graham at Arizona State. Knowing they'd need to rely on a bludgeoning teams with a non-stop aerial attack to survive in the current version of the AAC, the Tigers took a chance; through one season and two games, it's worked out.
G/O Media may get a commission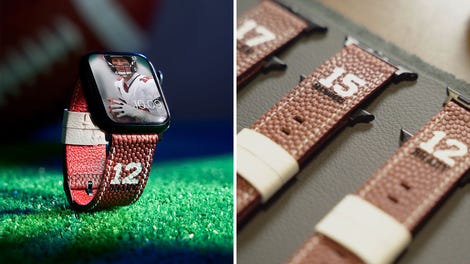 Official NFL PRODUCTS
Official NFL Apple Watch Bands
Memphis finished 8-4 last year, just a one-game dip from Fuente's 2015 team, and discovered along the way that quarterback Riley Ferguson (Paxton who?) and receiver Anthony Miller might just be two players who got every Power Five recruiter in the South chewed out for missing. While finding a pair like that is always helpful, Norvell's been hitting the recruiting trail hard to ensure that once they're gone, the offense he's crafted will continue to thrive. So far, last year's class ranked third in the AAC; this year's came in at No 1. The only difference between this year and 2016 is that the recruiting wins are starting to evolve into attention-grabbing victories.
In a weekend filled with upsets—if you judge upsets by which team has a little number beside its name and not by the actual team's strengths or even overall records—the Tigers' 48-45 home win over UCLA was by far the most entertaining (please, be my guest and watch Kansas State's 14-7 loss to Vanderbilt.) Memphis nearly fucked it at the end—why the hell would you call a fake field goal when you have an offense that's already scored 48 points, a receiver nearing 200 yards, and a running back over 100?—but the Tigers staved off a late drive from Josh Rosen, holding him to an incomplete pass on fourth-and-5 to send Memphis into pandemonium. It also finally introduced the rest of the non-AAC college football world to senior Riley Ferguson.

As a high school quarterback at Butler High School, a 4AA program (that's the big-boy league in the North Carolina high school scene) located in the Charlotte suburbs, Ferguson followed up his predecessor and future Georgia quarterback Christian LeMay's two state titles with one of his own in 2012, tying LeMay's record for touchdown throws in a title game along the way. Like LeMay, Ferguson's career with the Bulldogs made him a recruiting darling, earning him a scholarship with Tennessee, then coached by Derek Dooley.
After redshirting the 2013 season due to a broken tibia, Ferguson ended up leaving Tennessee in the spring of his freshman year, before he ever took a single snap—according to the man himself, he wasn't quite mature enough to handle the pitfalls that come with being thrust into the world of SEC football. It also didn't help that Dooley was replaced by Butch Jones, who went out and tried to bring in his own quarterback. After being rejected by even the his lowly hometown UNC-Charlotte program, Ferguson spent the 2014 season working at a body shop near Concord Mills, and then at business specializing in powder-coating fences—it's a shit job, especially for someone that can sling it like Ferguson.
Unsurprisingly, the football itch was quick to return; his high school coach made some calls, and Ferguson landed at Coffeyville, a renowned junior college program, where he balled out for year. Then, in 2016, in one of the best recruiting decisions it's made in years, Memphis finally came along to scoop Ferguson up. Knowing he only had two years of eligibility to realize his NFL dreams, Ferguson responded with a banger of a 2016 campaign. In his long-awaited first season of playing FBS ball, the Matthews native completed 63 percent of his passes for 3,698 yards, 32 scores, and 10 picks.
On Saturday, with five NFL scouts on-hand, all likely to catch a glimpse of Rosen, it was Ferguson that shone the brightest. He went 23-of-38 for 398 yards, six touchdowns, and one interception; I understand UCLA's secondary isn't anything to write home about, but they're not Texas Tech. The game was just further proof that Ferguson's arm is a fucking gift—he can zip a tight 20-yarder through the middle of the field just as easily as he can drop a 50-yard bomb on a dime. By year's end, Ferguson will be near the top of every NFL writer's quarterback list, and your dumb friends will be asking themselves, "Who?" Don't be your dumb friends.
Behind Ferguson and receiver Anthony Miller—the speedy guy hauling in the score in the above GIF—Memphis will again boast the most dynamic passing attack in the Group of Five, and, arguably, the nation. Guys like tight end Joey Magnifico (I swear to god this is not WWE) and wideout Phil Mayhue constitute the remainder of a well-rounded receiving corps, while running back Darrell Henderson continues to churn his legs to the tune of 100-yard games against Associated Press-ranked teams.
Meanwhile, the defense, though not exactly the stiffest bunch, is largely going to be fine, though a rebuilt secondary clearly struggled to slow down Rosen (in fairness, most veteran secondaries do too.) Safety Jonathan Cook, an Alabama transfer, led the team in tackles last season, but some more defended passes from JuCo transfers would be helpful to a unit that lost its top four corners from a season ago. Up front, guys like edge rusher Jackson Dillon and linebackers Curtis Akins and Genard Avery perform admirably; even if they aren't clear-cut pro-level talents just yet, they should help the Tigers progress a bit in their attempts to get after opposing quarterbacks—one sack against Josh Rosen does the new-look secondary no favors at all.
A Guy To Know
This is a 24/7 high school recruiting profile from 2013.
This is a man roasting a defense on a spit as thousands of Tennesseans exalt his name and cheer for further aerial carnage in 2017.
Miller was yet another player to slip through the recruiting cracks—the former Christian Brothers wideout walked on at Memphis before earning a scholarship; he still sat on the bench his redshirt freshman season. In his first opportunity to actually see the field, he finished third on the team in receiving yards. The next year, after an offseason filled with talk of who was going to step up and be the go-to receiver, he set the Memphis records for receptions, receiving yards, touchdown catches, and 100-yard games. According to his bio, "his 1,600 all-purpose yards are the fourth-most for a season in program history (top-three season all-purpose yardage totals are held by DeAngelo Williams)." When you're a Memphis Tigers player being mentioned in the same breath as DeAngelo, you've done something right. This guy is lightning; he's entertainment; he's the best argument there is for college football. Miller is just one of those guys that ever since he's been given a chance has been five steps ahead of everyone else; the only difference now is that people are finally paying attention.
Can They Make The Playoff?
No, Memphis doesn't have a great shot of making the playoff, unfortunately. The Tigers don't have another team on their schedule that would register as an impressive win (they skip the cross-divisional South Florida matchup this year) and their secondary still needs a significant amount of game time to gel.
Even with the obvious defensive deficiencies holding them out of any playoff or New Year's bowl game conversations for the time being, I'm still all in on Memphis as a team you should watch at all costs. I realize I'm only going off two games, but this version the Tigers is one of the many reasons college football thrives. They are (well, were) a bunch of no-names that score a ton, let other teams score a ton, and boast enough individual game-breakers on both sides of the ball that you're guaranteed to spill you beer at least five times a ballgame because of some bat-shit play like this:
The above forced-and-recovered fumble move by defensive tackle Emmanuel Cooper was the sixth-coolest play that happened in that game, at best. If you value college football or just the general feeling of watching a team score 40 points and barely break a sweat, watch Memphis.
Is The Coach A Dick?
I don't have any dirt on Mike Norvell, and I hope it stays that way because I really do love what his offenses are able to do. That said, holler at me if you have any cases of him being a dick (or of him being a nice guy—I enjoy positive stories too, ya know), just holler at me.
Schedule
Aug. 31: Louisiana-Monroe (W 37-29)
Sept. 16: UCLA (W 48-45)
Sept. 23: Southern Illinois
Sept. 30: @ UCF*
Oct. 6: @ UConn
Oct. 14: Navy
Oct. 19: @ Houston
Oct. 27: Tulane
Nov. 3: @ Tulsa
Nov. 18: SMU
Nov. 25: ECU
*As a couple of y'all have pointed out in the comments, due to Hurricane Irma, the Sept. 9 game at Central Florida was moved to Sept. 30; Georgia State, who the Tigers were initially slated to play, was paid off for the cancellation.