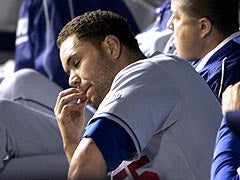 "All right Chief, you're our last chance." That's Jack Nicholson in One Flew Over the Cukoo's Nest, in which his character, Randall McMurphy, tries to urge a fellow insane asylum inmate to cast the deciding vote so that the ward can watch the Dodgers-Yankees World Series game on TV. That bid failed. But what of the real-life Dodgers in 2006? And what of the Padres? Both are on the brink, down 0-2 to the Mets and Cardinals, respectively, in their NLDS. After all the hell that San Diego went through to win the NL West, and the contortions LA needed just to win the wild card, it's kind of sad that it is so close to ending so soon. The Dodgers and Padres are dead. Or ... are they? Let's go to the experts.
• 6-4-2, A Dodgers-Angels Double Play. Grittle Me This: Mets 4, Dodgers 1. "Why wasn't James Loney brought in, instead of Julio Lugo and moving Jeff Kent to first? Why are Mark Hendrickson and Brett Tomko on the team? After this outrageous postseason, will Kenny Lofton find a job on a major league team again? (You could ask the same question of Tomko and Hendrickson.) How in the h-e-double-toothpicks did this team even get into the postseason? Not much longer now. Don't they look peaceful in there?"
• Baseball Toaster: Dodger Thoughts. "Sorry, not giving up. Been through too much. The odds have gone downhill — so be it. I've lived through 1981, 1988. I lived through September 2006. It's rough, but I like being in the playoffs too much to turn my back on the Dodgers. Saturday's game has been set for 4:35 p.m. See you there."
• Gaslamp Ball. "This is not the Padres team of 2005. This is not the Padres team of 1996. The feelings that most of us are having right now are more like 1984 feelings. We were optimistic of the post-season back then. Then the Cubs smacked the Padres in the mouth ... twice! We were depressed. We were mad. And do you think we just rolled over? NO! Dammit. We BELIEVED! So, for all you youngsters out there with your iPods and your myspace and your TRL do not despair. There is no Cardinal mystique. There will be a Game 3 and a Game 4 and there sure as hell will be a Game 5 and then a Game 1 again! This franchise has done it once before and they can do it again."
• San Diego Spotlight. "All the talk is going to be about Pujols ... How can you let him beat you? You should have walked him...You botched the rundown, etc. It is true that Albert Pujols should be the one person that the San Diego Padres should know better than to mess with at this point. But to concentrate on Prince Albert the Pompous is silly. If you hold a lineup with the street cred of the St. Louis Cardinals to 2 runs, you should win the game. Period. I don't CARE who scored the runs, or who drove them in...If you would have told me at noon that the Cardinals were going to score two measley runs I would have been planning the victory dance. It's gonna take a miracle or Robin Williams doing stand up in the on-deck circle for us to see game five."
• Ducksnorts. "Okay, so what are some good things that happened on Thursday at Petco Park? It was tough, but I managed to find a few: Navy SEALS parachuting onto the field before the game; Trevor Hoffman receiving a guitar autographed by AC/DC's Angus Young before the game; Trevor Hoffman catching the ceremonial first pitch from Lee Smith; Ryan Klesko lining a sharp pinch single to left in what might have been his final home at-bat as a member of the San Diego Padres; Tremendous crowd support throughout the game even when the team was busy sucking eggs; Not having to watch the Cardinals celebrate in our house this year."