For the third time this season, a no-hitter was broken up by the would-be 27th out. Last night's hard-luck winner was Cardinals rookie Michael Wacha, making just his ninth career start, and it came down to a matter of inches.
Wacha was dominant, walking two Nationals, both on full counts. Luck was with him in the later innings, first when a Denard Span bunt rolled just foul in the sixth, then when LF Shane Robinson made a great catch going to his right in the eighth. Even with a plus fastball, Wacha relied heavily on his changeup to keep hitters off-balance—"To throw four, five changeups in a row when you throw 95, 97," Ryan Zimmerman said, "that's not something that I expected."
That's why Zimmerman was looking to swing at a first-pitch fastball when he came to the plate with two outs in the ninth—he didn't want to give Wacha the chance to show his changeup. And even though Zimmerman got what he was looking for, Wacha's sinker still had movement; Zimmerman topped the ball, bouncing it right in front of home plate, and just beyond the reach of the 6'6" Wacha. It nicked his glove, perhaps slowing it down enough so that Pete Kozma's hurried throw pulled first baseman Matt Adams off the bag.
The Cardinals on the field and in the dugout celebrated for a split second before Jeff Kellogg called Zimmerman safe. The crowd wasn't happy, but the call was correct, and there wasn't even discussion of scoring it anything but a hit.
G/O Media may get a commission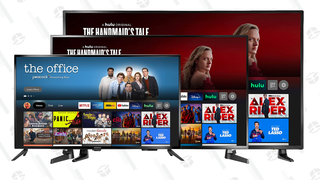 Up to 44% off
Prime Early Access - Insignia Fire TVs
A disappointment for Wacha, who said he was aware of the no-hitter from the first inning—"You know if you give up a hit or not"—but a brief one. Trevor Rosenthal came on to finish off the 2-0 win, and the Cardinals maintained a two-game lead in the NL Central with five to play.
It's been a banner year for close calls. In his first start of the season, Yu Darvish took a perfect game through 8 2/3, as did San Francisco's Yusmeiro Petit earlier this month. Anibal Sanchez had a no-hitter broken up with one out in the ninth in May.
The Cardinals now face a conundrum many other teams would love to have: they have more good young pitchers than can fit in their postseason rotation. Behind veteran Adam Wainwright, they have Lance Lynn, in just his second full year as a starter, Joe Kelly, who was only moved into the rotation two months ago, and rookies Wacha and Shelby Miller. How do the Cardinals keep reloading fresh, quality arms? There's no simple macro answer, but Wacha's story is easy enough: he was St. Louis's compensatory pick in the 2012 draft, received for losing Albert Pujols to free agency.