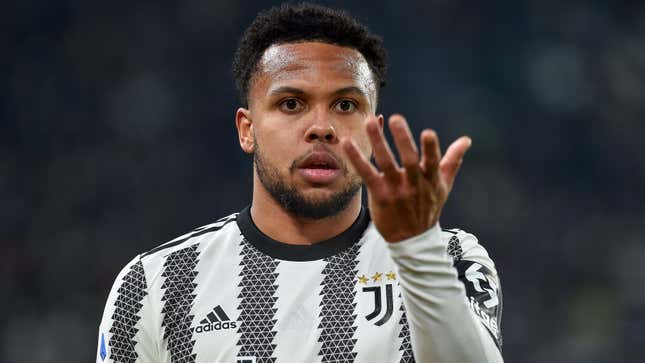 It's transfer deadline day, and with the news that the USMNT will be in the Copa America (unless there's some sort of qualifying disaster, which has never happened before, right?), what the members of the team do with their club teams takes on greater urgency. It's not waiting three years anymore. The next big tournament is only a year and a half away now, so USMNT players need to get settled and play well in a much tighter window than we first thought. So here comes Weston McKennie moving from Juventus to Leeds, perhaps for that reason among others.
Can Liverpool Win The Quadruple? | What You Need To Know | FA Cup
On the surface, a player moving from the biggest club in Italy to a relegation battler in the Premier League sounds like a step or two down. But it's probably more an indication of where Serie A's standing is on the world stage, what Juve is going to look like in their post-Plusvalenze stage, and where McKennie might be. Juventus clearly need to bring in some money without the Champions League, and they'll need to get some salary off the books.
As for McKennie, as exciting as it was when he arrived at Juventus, it was a bit of a wonky relationship. It's not that he was bad. He got 70 appearances and 46 starts over two and a half seasons, scoring nine goals. But he arrived during Juve's descent into being a basketcase, played under two different managers, and Max Allegri this season has thrown just about every formation and system at the wall to try and find an answer. And McKennie was always caught up in that choppy water.
McKennie rarely got to play in his preferred position, which is the most advanced of a midfield three. He'd been a tucked-in winger in a 4-4-2 for a lot of his Juve stay, and lately, he'd been essentially playing fullback as Allegri put him out wide in this mutated 3-6-1 they've been rolling out. When Juventus did play a 4-3-3, McKennie found it hard to break into the midfield ahead of Adrien Rabiot, Manuel Locatelli, Federico Bernardeschi, or others. Injuries didn't help, as McKennie was essentially out from February 2022 through the end of last season.
Marching on together… maybe
That doesn't mean everything will be rosy at Leeds automatically, and that's due to the high level of weirdness that McKennie is. It's hard to know where he fits in for Jesse Marsch either. In recent weeks, Marsch has sent Leeds out in a 4-2-3-1, a formation that doesn't accommodate McKennie anywhere. He doesn't defend well enough to be one of the two holding midfielders, and he's not deft enough with his touch and passing to be the No. 10 in that formation. It's not that the change in formation has brought a great reversal in Leeds's results, but they've only lost once in the last seven matches, and that was away to Aston Villa where they were clearly the better team and were unlucky to lose. But then, they've only won two of those seven games as well.
Perhaps Marsch wants to shift back to a 4-3-3, and slot Tyler Adams back into the sole holding role, with Marc Roca being the link between Adams and McKennie. But shifting a whole team around a new signing has its perils. Leeds did sign a new striker in Georginio Rutter, which will put Rodrygo back at his more natural inverted winger on the right. But still, if Marsch doesn't stick with a 4-3-3 solely, then McKennie becomes the same odd fit he was with Juve. McKennie still only does one thing really well, which is to arrive late in the box to score. Lucky for him, that's a premium skill in a midfielder.
Also, McKennie's tendency to have his give-o-shit meter drop will not fly in the Premier League or at Leeds. Especially as Leeds are going to need every point they can get to avoid relegation. Marsch's style is about as high-intensity as it can get, and McKennie can fit into that when he wants to. He just hasn't always wanted to. Leeds are going to do a fair amount of defending, and they want to attack at a hair-on-fire pace. Does McKennie have the want-to to get up that much of the field that quickly to do what he does best?
Still, the more USMNT players that we can get into the unquestioned best league in the world, the better for everyone. McKennie wasn't the only USMNT starter in the transfer news, as there was some buzz yesterday that Antonee Robinson was the subject of inquiries from Manchester City to replace João Cancelo at left-back. It appears that may have cooled until the summer, but is still a tantalizing, if perplexing, prospect. Pep Guardiola doesn't really use his fullbacks like everyone else, scorching up and down the wing to defend and join the attack. Cancelo's role was to join central midfield when City had the ball, and the other fullback generally forms a back-three with the two centerbacks with City in possession. Rico Lewis has taken on the former role of late with Cancelo's apparent banishment. Robinson doesn't seem to really fit in either role, but Pep has reshaped players before.
Things are happening, and they have a whole new perspective now with a big tournament suddenly much closer on the horizon.