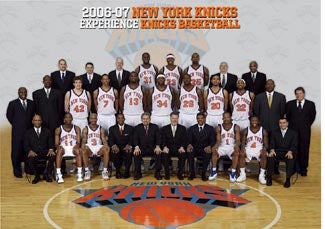 Sadly, we haven't had the joy yet of watching the Knicks play — they open in Cleveland on Friday — but that doesn't mean we can't relive the glory of the last 10 years of beautiful Knicks history.
Esquire has a terrifying timeline. Our favorite part:
April 2001: You know what pro athletes don't discuss enough? Jews! Knick point guard Charlie Ward does his part to ameliorate this shortage, musing about their role in Christ's death (apparently, they caused it) before bringing the conversation into modern times by noting, "There are Christians being persecuted by Jews every day." Inspired by this theological display, the Knicks go on to lose in the first round of the playoffs in a truly nightmarish series. (Midway through, center Marcus Camby's sister is taken hostage by a knife-wielding ex-boyfriend who allegedly sexually abuses her in front of Camby's mother and other sister.) It is the Knicks' worst playoff showing in 10 years.

May 2001: Strangely, Jewish groups fail to be appeased by Charlie Ward's defense of his statements: "I didn't mean to offend any one group because that's not what I'm about. I have friends that are Jewish. Actually, my friend is a Jewish guy, and his name is Jesus Christ." So suck on that, Jews!
Say what you will about the Suns: There's no team in the NBA more consistently entertaining than the Knicks.
The History Of The Decline And Fall Of The New York Knickerbockers [Esquire]