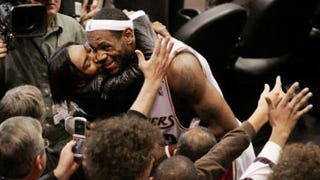 This was a tip sent to Gawker last night from a scuzz-money marketplace entrepreneur who hopes to capitalize on Gloria James's recent valet beatdown. He claims to have footage of Gloria from Lebron's high school days where she goes after a young fella on the court.
[sic]'d
hey gawker,

my name is robert and i am in the columbus ohio area...ive been actively trying
to get some bites on a video i have..that i promise will go viral....pretend
that u saw the video that i am going to describe...and pretend to make an offer
for it....i have a video of a labron james in high school.....labron gets
stuffed by his opponent.....labrons mom comes out of the stands and
attacks the
kid.....it is very funny and disturbing at the same time.....it is the perfect
time to release this videeo with labrons mom getting arrested and the playoffs
are coming....so r u interested...like ive said ive contacting other
entertainment sites......just thought id see if u were interested

ty

robert
Gawker was not interested. I offered $72.36 for this video but have not heard back yet. Since TMZ is all over this story right now, they seem the most logical buyers. We'll post a link to their (or whomever the lucky winner is) video once a deal gets done.
Remember, we'll still pay for stories, so don't be discouraged by my lowballing. If we really want something, I'm sure we can strike a deal. Email us here, if you've got some.