Because no one reads the newspaper, and SportsCenter's anchors are too perky for this early in the morning, Deadspin combs the best of the broadsheets and the blogosphere to bring you everything you need to know to start your day
• In addition to not being heard, San Antonio's Manu Ginobli wasn't smelling so good last night either. That's because, during the third quarter of Game 3 of the Mavs-Spurs series, an errant Dirk Nowitzki elbow broke his nose. But in a show of the legendary toughness one can only assume Argentinians are known for, Manu returned moments later, schnoz packed with gauze, to take over and lead his time to a 94-90 win and a 2-1 series lead.
• Speaking of elbows, Kevin Garnett returned from his suspension last night, but it was teammate Paul Pierce who was wielding the sharp weapon - specifically, a dagger - as his buzzer-beater gave the Celts a 3-0 stranglehold over Dwyane Wade and Associates. The short-handed Jazz also beat down Denver, who inexcusably showed no signs of being divinely inspired by their home city's drafting of Tim Tebow. I don't get it - didn't they hear all those legendary stories about him staying out of trouble?
• Heir-to-vast-pickle-fortune Jimmy Clausen will take over crucial-interception throwing duties from Jake Delhomme in Carolina, while Colt McCoy will have the enviable task of just having to be better than Derek Anderson and Brady Quinn in Cleveland. Oh, and Pete Carroll hurt someone's feelings, but more on that later.
• Elsewhere, in the closest we'll ever get to a Canadian version of the American Revolution, the Canucks thumped the imperialistic Kings 7-2, to take a 3-2 lead in their series. And in the annual recreation of The War of 1812, the Canadiens refused to die, staving off elimination by taking Game 5 from Washington. The remaining Original Sixers split; Detroit went up 3-2 in their series against Phoenix, and Boston is now down lost but is still up 3-2 on Buffalo. And speaking of going down to Buffalo, the Canadian dollar continues to sniff around parity...who's up for a run to the outlet malls?
G/O Media may get a commission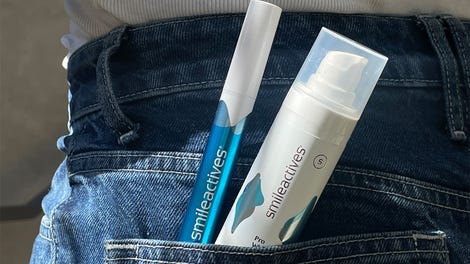 58% off
Whitening Powerhouse Pen & Gel Duo
[Pic from Yahoo!]
****
Good morning, sportsfags. It's probably a beautiful day out there. Time to brick up these windows.