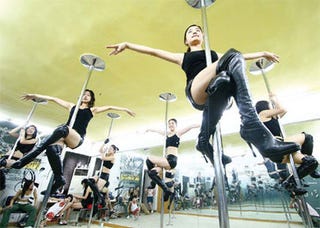 Every Olympics, we hear about fringe sports (and that's being generous) clamoring for inclusion. This time, it's competitive pole dancing. But it doesn't look like they have the most credible advocates on their side.
I'm not here to debate the merits of pole dancing. It requires athleticism, and its judging can be just as standardized as figure skating or the somewhat similar rhythmic gymnastics. I'm here to draw attention to the way pole dancers are trying to draw attention to their cause: a petition at petitiononline.com!
Yes, that old standard of crackpots and idealists, where anyone can post a petition, and anyone can sign it pretending it'll make a difference. At press time it has 3580 signatures, and, we can assume from looking at the comments, that not all of them are genuine.
Amanda Henderly: "It's so physical. There's a reason strippers get back problems."[Ed note: Or maybe...nah...]
Bosley Drake: "My mom is really good at this"
Raymond Orndorff: "This event would get the most viewers..."
Boba Vette: "My signature is conditional. I require the contestants to wear large animal costumes. Bison, antelope, large bears are all appropriate. "
Bunny McIntyre: "Finally I can earn something for working a pole!"
Enni, UK: "hey you neva no the uk mite win summit!"
Folami Ankoanda-Thompson: "Its a real sport, I've taken a class once!"
Brandon Roth: "these women work their tight little bodies just like gymnast and should be rewarded"
George Grigoropoulos: "Pole dancing is the football of the 21st century"
Bryce: "hehe"
Adam Walker: "Can I judge?"
Ed Aniel, Philippines: "even kids love to pole dance"
Pole dancers make push to get into Olympics [AP]
Get Pole Dance Accepted into the Olympics [PetitionOnline]