Reporters are the complainingest people on earth, and these Olympics are giving them plenty to complain about—not a good combination. Today's outrage: a severe lack of food options inside the media center.
This is no assembled jeremiad, cobbled together from Tweets. Oh no. This is a letter to the Olympic organizing committee from the president of the International Sports Press Association (AIPS), one of the oldest and most respected bodies advocating for sports reporters at multinational events like the Olympics and the World Cup. And AIPS is not pleased with the setup at the Main Press Center, which consists of a water cooler, a coffee urn, and some teabags (seen above).
An inspection of the MPC by AIPS president Gianni Merlo has discovered that food and beverage services are extremely lacking.

"More than accredited 5,000 journalists are expected in Rio and if there's one thing that journalists don't like it's being hungry," said Merlo.
The Main Press Center is the home base for thousands of print and web reporters covering the Games. It's a no-nonsense bunker, with workstations for everyone and host to regular press conferences with athletes. And usually, there's food there. Not this time—for unknown reasons, McDonald's does not have a restaurant in the Main Press Center for the first time since it became an Olympic sponsor in 1976.
So, yes, it sucks not to have food nearby when you're working on deadline. It's fair to complain. It's also not very self-aware to strike a tone as if a true cosmic injustice is being done here.
"Water is not enough - there is no bottled water, coffee and tea is simply not served in adequate quantities, so the containers are empty most of the time. There is nowhere in the MPC to get food. Not even a snack bar for sandwiches and beverages. These facilities have been provided in the IBC for the broadcasters (with two snack bars)."

Merlo said the situation was unacceptable.

"The working press will need access to fast food options. Is the working press any different from those housed at the IBC? Why are we being treated as second class citizens?"
G/O Media may get a commission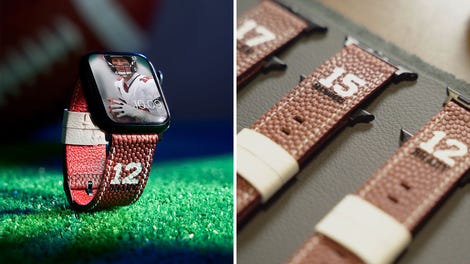 Official NFL PRODUCTS
Official NFL Apple Watch Bands
(The broadcasters paid a shit-ton for the rights to show the Olympics. Scribes are and will always be second-class citizens in the IOC's eyes.)
So: always carry a bunch of snack bars, folks, or take a walk to one of the nearby facilities with food options. If you can get some cash:
This is all very funny, because I am thousands of miles away and this does not affect me at all, and also because many reporters have been at this so long that they do not realize how it comes across, rightly or wrongly, to complain about the lack of perks on their all-expenses-paid three-week trip to Brazil. But this is a real problem for the organizers and the IOC. Reporters have the tallest platform and the loudest microphone, and if they're not happy at these Olympics, they're going to tell everyone about it, and, perhaps, shape a bit of public opinion of these Games. Pro teams learned this long ago: a sated reporter is an effusive reporter.
This is a good start:
[AIPS]