Name: Aya Medany
Sport: Modern Pentathlon, which comprises five separate events. Pentathletes must complete a 200-meter freestyle swim, a three kilometer cross-country run, a show jumping course, a pistol-shooting event, and a fencing event.
Hometown: Cairo, Egypt
Age: 23
Why you should care about her: She's had to deal with a lot of obstacles! Heading into the 2008 Olympics, Medany was viewed as Egypt's best hope for an Olympic medal. Unfortunately, Medany was unable to live up to the expectations that were put upon her, and she finished in 8th place. The Egyptian media did not respond well to Medany's failure. From BBC Sports:
"I don't know what to say, except that there can't be anything worse than Beijing," she says, with a dry laugh.

...

Did the media understand?

"No. The media… I'm sorry," she looks at our microphone and laughs, "the media really don't know what the athletes feel. They don't know my sport. They put everything on the riding being bad, and me needing an improvement in riding. It wasn't really my fault."
Following the 2008 games, Medany became much more observant of her Muslim faith, a decision which has further complicated her ability to compete. Medany's decision to wear a hijab during competition isn't the primary issue, although she says it slows her down a bit when she runs. Rather, she's had difficulty because she can't wear a full-body swimsuit during the swimming portion of the pentathlon. (In 2009, it became a requirement for female swimmers to have their necks, arms, and legs below the knee exposed due to the proliferation of super-fast full-body swimsuits.)
G/O Media may get a commission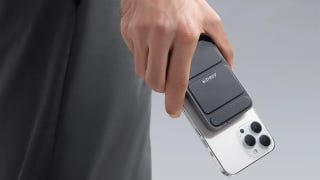 15% off
15% off Anker Top Ten Products
Take charge
Treat yourself to a portable power bank, a magnetic wireless battery for iPhones, or even a solar generator. There is a reason these are in the top ten. For instance, the Anker 747 Power Bank is a 4-in-1 charger utilizing USB-A and USB-C to be capable of charging up to four devices at once. Great to take with you when traveling and in need of keeping your phone, laptop, and even Nintendo Switch powered on.
Medany considered not competing at all because of the new rule, but she recently decided to give in and compete in a short-cut swimsuit. Her swimming coach, Tariq El Nouweihi, explained Medany's rationale to Middle East Voices:
"If she stays like this for entertainment, maybe it's not good, but if she swim for training it's good. Not bad."
Finally, Medany's training schedule was violently interrupted by the Egyptian revolution. Since the revolution, the Egyptian pentathlon program has received very little funding, and two major pentathlon events that were to be held in Egypt in 2011 had to be moved. Medany spoke to Middle East Voices about the difficulties she faced:
After maybe the month of the revolution we [were] supposed to travel for a sports camp and a competition and there was a world cup in Egypt and it was canceled and we stayed like two months. We didn't travel anywhere because there was a problem with money and with the airports and you [could not] travel and you [could not] come back.
Olympic/world championships experience: Medany competed in both the 2004 and 2008 summer Olympics, but failed to medal both times. (She was the youngest pentathlete in '04.) She did win the world cup in 2008, 2009, and 2011, though, and she is a five-time African champion.
Sexy-pose threat level:

Olympic archetype: Harold Abrahams
Scouting report from some guy on the internet: From YouTube commenter 1mechatronics:
i like your style Aya , you are beautiful fighter ,, U R THE 1
Scouting report from home country: Again, from Middle East Voices:
Medany is Africa's best pentathlete and a real contender for a medal at this year's Olympics. If she wins, she will be the first female Egyptian to ever do so.
Did you know? Medany's father, Mahmoud Medany, was one of the lead authors of the IPCC report on climate change that won the Nobel Peace Prize in 2007.
Forecast for 2012: Medany's last first-place finish came in May of 2011, when she won the world cup in Hungary. Since then, she's had low to middling results, in no small part because she's struggled with back and hip injuries. If she gets her body right in time for the Olympics, though, she should be able to return to her top form and compete for a medal.
Relevant Bob Costas facial expression: