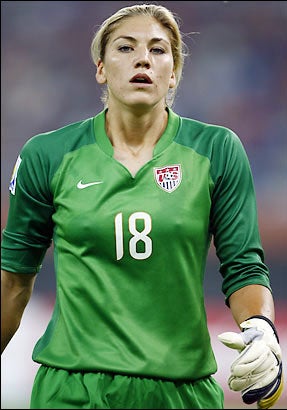 When we last left USA soccer goalie Hope Solo, she was benched in the semifinal game against Brazil, which they lost 4-0. Since then, Solo has publicly called out her coach for making the wrong decision, then defended her words on the best location possible: the Internet!
Although I stand strong in everything I said, the true disheartening moment for me was realizing it could look as though I was taking a direct shot at my own teamate. I would never throw such a low blow. Never. Many of this goes way beyond anyone's understanding, and is simply hard to justify.
Translation: "Omigod, you guys, I'm just, like, this really complicated girl, and you wouldn't understand that because you aren't me. And that's just who I am. So, like, don't criticize us, because what I have with my teammates is, like, soooo special. I luv u chickas forever! [Amy Grant song lyric snippet]"
And wouldn't ya know? Solo won't be with the team in USA's consolation game against Norway. Well, that's it. Dave Greg Ryan is soooo off her Myspace friends list.
2007 Worldcup [Hope Solo's Myspace]
Outspoken U.S. Goalkeeper Hope Solo Will Not Be With Team For Norway Game [Yahoo! Sports]