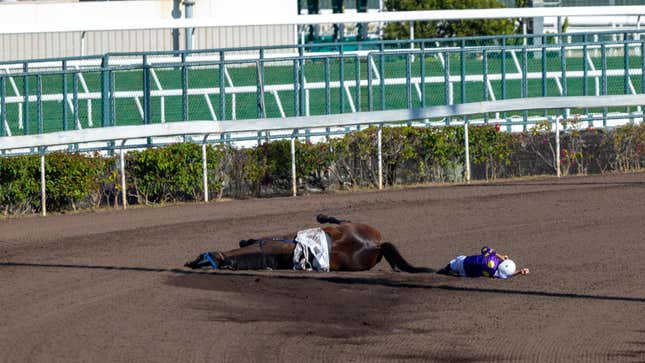 The discussion of the future of horse racing seems to be popping up more regularly these days. The greater regularity of the topic probably started in 2019, when Santa Anita Park in Southern California had an unprecedented rash of horses suffering fatal injuries, with 42 horses dying and shutting down racing for three weeks at the track. It's the same again now, at the end of Kentucky Derby week, as seven horses died this week at Churchill Downs, including two on Derby Day itself.
Who's the greater GOAT? Gretzky or Secretariat | Agree to Disagree
Does horse racing have a future?
All this has led to the now normal but still unanswered questions of whether the sport has a future, and how it might negotiate that future if it does. But seemingly, as with everything else in horse racing, too many people with too many interests have too many answers to suss out what might be the actual ones to go forward.
Only recently, and still waiting to be put into effect, is one national board governing the medications and drugs horses are administered. And that's still not a sure thing, because as with everything else in our quickly burning society, it's yet another battle in the war of states' rights. There are plenty of horsemen using that cover to try and evade the regulations that this national board would institute, so that they can keep ducking whatever rules and laws they play by in their home states. This was a huge problem for racing for decades, in that trainers could use certain medications and drugs in one state but not another and weave in and out of sanctions with the loopholes they provided.
And even if that national board can wrangle itself loose from STATES RIGHTS, how much of a punishment they can levy would be another hurdle to climb. Go through the leading trainers in the sport, and you'd be hard-pressed to find one that hasn't been suspended at some point in their past, if not multiple times. Brad Cox, Todd Pletcher, Steve Asmussen, Bill Mott, Michael Maker make up five of the top six trainers in terms of winnings so far this year, and all have suspensions on their resume. Most are just for 10 or 15 days, which doesn't appear to be deterring much. What other sport would let its main (human) figures violate rules so blatantly and just go about their business two weeks later so often?
What role do drugs play in racing injuries and deaths?
It's also a question of if the drugs trainers are giving horses are the real culprit, or just one of many. When Santa Anita had their nightmare of 2019, they instituted an overhaul of their drug policy in racing, and deaths have been reduced. But there wasn't a common theme among the horses that passed in that time. What the drugs are meant to mask or cancel out may be the bigger culprit, and that's the fragility of horses that's been bred into them over time. Maybe those drugs help them run through the little injuries and maladies that turn into big ones, but the fragility is still there.
It's racing after all, so owners and trainers have valued putting speed over all else in breeding. Horses that run fast are prioritized, whether or not their offspring can stand up to the rigors of a racing career. The top horses, those in the stakes class, rarely run much past their 3- or 4-year-old seasons before they're hauled off to the stud farm where the real money can be made. So owners and trainers don't really concern themselves that a horse might only be able to run a few times a year for two or three years, because they just have to get to that stud fee and career.
But the horses below that class, who are still bred with all the fragility of the higher priced racers, aren't quite as lucky. For an allowance or claiming horse to be a good ROI, unless stocked with a pristine bloodline that would make breeders' eyes bulge, have to run more often. But they're no more well prepared for it than any other horses.
It would take decades to rethink how horses are bred, just as decades of only breeding for speed has changed the sport, and that's if the industry had any appetite to do so. It appears it does not.