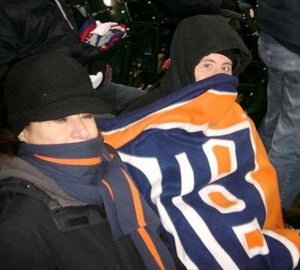 Jalopnik editor Ray Wert has been in Detroit all week and was at Game 2 last night. Here's his report.
Yes, I'm well aware that I'm a good brother — probably too good. After attending game one on Saturday night, I gave up my seat for game two and allowed my younger brother to take his girlfriend with him for a game that was like a railcar ride — well, at least the part where Todd Jones was pitching. That man's a scary closer. So instead of sitting in the freezing drizzle of a cold October night — my ass was ten times more comfortable — split between the alcoholic lovefest that was Duggan's Irish Pub on Woodward in Royal Oak — and a friends house in Ferndale.
But, the youngest of clan Wert was able to follow a few simple directions and capture some flora and fauna of the game — as I've done in the past (and must not forget this one — that tiger's just so uber adorable).
So while I was in the comfort of friends and warmth — my brother and family were with the Tigers, and not so much warmth — or dryness. But they did get to see an amazing win by a man with a dirty, dirty hand. So yeah, I'd have traded places with them in a second — now it's on to St. Louis — where I'm sure someone can pick up the slack for us in the first-hand and you-are-there department — at least unless it comes back here to Detroit for a Game
6 and 7.
You can find a photo gallery from the freezing night right here.