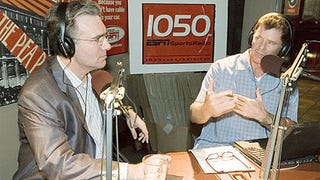 ESPN SportsCenter purists who long for the days of Dan Patrick and Keith Olbermann's dry witticism- infused sports highlights should now rejoice at their cubicles until your employer calls security and has you escorted out of the building.
According to NBC Sports, Patrick will reunite with Olbermann as part of NBC Sports "Football Night In America" broadcast starting this fall. Yes, it's true: Patrick and Olbermann will tag-team the highlights and, once again, unleash their highly-evolved brain power upon an unsuspecting sports nation. But it's not the 90's anymore. Can these two recapture the magic (and the mustache) they once shared without the show devolving into some egocentric meta-ranting designed only to amuse themselves? Will the suits at NBC worry that the non-reading football audience will feel too stupid to watch?
It's time to dust off your library cards, America.
Patrick Joins NBC, Reunites With Olbermann [NBC Sports]