Gosh, it was fun to see a woman with some healthiness about her and FIEN—who is FIEN?—printed on her bib, out front just killing it in Sunday's New York City Marathon. And wasn't it a marvel to watch that cheetah Wilson Kipsang loping along at 5:05 or so per mile, easy as cracking a cold one?

The hills, turns, and bridges of NYC are notoriously slow, and with no lead pacers the runners at the front have to figure out how to handle the pace, the course, and each other. Which is to say, they have to race.
Another one of the neat things about NYC is how you are able to appreciate the women's race separate from the men's. The elite women's field starts 35 minutes ahead of the men and runs pretty much as a separate race until about 21 miles when the men catch up, so you can really watch and appreciate how it unfolds instead of trying to pick out the women in the swarms of 2:25-ish men.
Here is one mystery and four good/inspiring/sassy things that happened in New York this year.
Who was the mystery woman leading the women's elite field?
An unknown woman led the New York City Marathon through 12 miles and the media said nothing about her. FIEN was printed extra bold on her bib, as if writing it really large was just as informative as explaining who she was. She was and is Cassie Fien. The 30-year-old Australian ran some half marathons five years ago, with nothing noteworthy until an impressive 1:11 half in July, fast enough to qualify her for the elite field in this, her marathon debut. The name on her bib meant she was legitimately in the elite field, not like some of the 200-numbered "sub-elites" in the men's race.
G/O Media may get a commission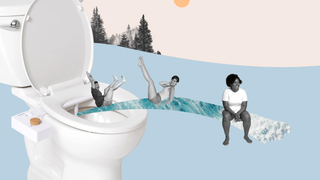 17% off
Tushy 3.0 Warm Water Spa Bidet Attachment
She looks like a field hockey defender—strong. It was positively weird how announcers, bloggers, tweeters, everyone, mentioned the women running with her—Sara Moreira, Sally Kipyego, Laura Thweatt—but nothing about Fien, front and center, mile after mile. She checked her watch several times, and carried on, pushing from the first mile at a pace that didn't look comfortable—either incredibly stupid or very gutsy. I thought the former when she disappeared from the lead pack around halfway, but what's this? About half an hour later, ABC's ticker tape splits of the top twenty showed Fien hadn't slipped far, 11th place at 21 miles, and grittily hanging on. She finished 12th in 2:38—boom, marathon debut accomplished the hard way. She ran the second half about 14 minutes slower than the first, which had to hurt, but 2:38 isn't bad for a first effort.

Committed to being an international marathon, it's no surprise NYC gave an elite spot to this unknown Aussie (they're always looking for wild cards who aren't Kenyan or Ethiopian, as they have plenty of those). Their gamble, and her's, paid off with an honest early pace and some marathoning mystery.

Meet legendary Japanese government worker Yuki Kawauchi
NYC is the only race (out of the insane 44 or so he runs annually) that full-time Japanese government worker Yuki Kawauchi does in the US. Aside from a short Youtube clip here or there, it's the only chance US fans have to appreciate why this guy is a legend in Japan. Kawauchi's best is 2:08, but he usually runs 2:11 or 2:12, which would easily place him in the top ten in any NYC throwdown in history. Yes, the field was sprinkled with blades who could, under time-trial conditions, lay down 4:45 mile after 4:45 mile, but no one does that in New York.
The lead pack rolled through Brooklyn and Queens, looking at each other sideways, cautiously gauging, waiting. Brett Larner of Japan Running News reported that Kawauchi was pleasantly surprised to find himself still in that lead group as they wheeled off the Queensboro Bridge at 15 miles. And still a member at 19. Kawauchi's shock of straight up, straight out hair lent to his eager expression—he saw the glory coming. Sure enough, at 20 miles, Geoffrey Kamworor put in a 4:24 mile, and Kawauchi was off the back.

But here's the thing that's not always evident: Twenty miles of a wildly fluctuating pace—4:40, then 5:24, then 5:03—is draining for even a 2:03 marathoner. There are no sure things, and twenty miles is never easy. When studs look into the tank to see what's left, there are always surprises. (Example A was former world record holder Wilson Kipsang, who spent the first 20 miles taking in the sights and checking stock prices, finding he didn't have the stuff when the move came.)
This was in Kawauchi's bailiwick. Still in striking distance at 21 miles, he went into his signature grind mode: grimacing, flailing, close. "This was the first time I've ever been able to compete as one of the leaders all the way in a race of this level, right until the real move came," Kawauchi told Japan Running News afterward. "I've never been there to experience it happening right before my eyes before, so this was a really important breakthrough experience."
By happy circumstance, he found himself right next to a real popular American with a similar personal best, 40-year-old Meb Keflezighi. Working together, brothers in pain, the two clawed their way to within five seconds of Ethiopian Yemane Tsegay, who has run a 2:04 marathon. "If Meb hadn't been there for me I probably wouldn't have been able to push it this hard. I owe this race to Meb," said Kawauchi afterward. He was sixth, the first non-African and the highest position ever by a Japanese in that race, in 2:13:29. Kawauchi collapsed, spent at the finish line. Meb came across three seconds later. Good stuff.
Craig Leon gets some shine
The handmaiden to Kawauchi's story is that of American Craig Leon, whose best is 2:13:52. The London Marathon wants nothing to do with a guy like that, and frankly, New York might have had better US prospects were it not three months away from the US Olympic Trials Marathon. Many runners considered that too close and passed on New York.
Of the Americans entered, Meb and Nick Arciniaga got a lot more press than Leon. This one-line split note by LetsRun, "Mile 14: 5:01 (1:11:15) Leon and Meb 1-2," may be framed and hung above Craig Leon's mantel. He ended up 8th in 2:15, only two minutes off his best (Kipsang was nine minutes off his PB), and while 2:15 doesn't shine up his resume, it was a huge boost to him and to US running in general to roll with the big boys for at least 15 miles. He kept his head and competed, and it was a fine thing. Again, had this been Berlin or London or Rotterdam, pacers would have drug the lead pack through halfway in 1:02 or so, instead of the sedate 1:06 Leon et al passed in Queens, and Craig Leon would have run nearly alone off camera for 25 miles. NYC lets scrappy contenders get in there and throw some punches.

Christelle Daunay faltered, but somehow came back
Speaking of great competition, let's appreciate what French woman Christelle Daunay managed—a comeback in the awful dead middle of a marathon. Like life, the marathon is a one-way street. You get older, never younger; you get more fatigued, never less. You try to put off the effects as long as possible, but when you lose contact with the communal momentum of the lead pack and watch your competitors run away from you, it's mighty gutting. The race becomes about damage control, trying to avoid cratering. Priorities shift from competing for the win to finishing with most bodily functions intact.

Daunay was in the lead pack, pushing the pace from the beginning, along with Portuguese Sara Moreira and mystery woman Fien. Though the pace wasn't that fast, the pressure of being out front is draining. Daunay slipped off the back at about 15 miles, far enough into the race for fatigue to legitimately claim a victim but not close enough to the end to merely hang on for a few kilometers. She was in no woman's land with eleven miles to go. The best someone in her position could hope for was to pick off those unfortunates who were dying less gracefully.
It's incredibly rare amongst top runners to overcome the mental anguish of falling back, to be able to regroup and not just maintain, but actually pick up the pace. Runners spend more energy than they should to hang with the pack simply because once they're gone, it's usually over. Somehow, Daunay battled back. By 17 miles, she'd regrouped and picked it up enough to rejoin the pack. Amazing and inspiring, she lasted another mile-and-a-half or so until eventual winner Mary Keitany dealt the coup de gras. Even with a painful 10K stretching before her, Daunay held on for fifth place in 2:26:57, two-and-a-half minutes behind Keitany.

Portuguese Sara Moreira, too, ran an impressive race, doing most of the work at the front from mile 0 through 20. She was fourth in 2:25:53, only a minute and change off her personal best despite bearing the brunt of the pace.

The Kenyan-Ethiopian marathon feud continues to simmer
Marathoners tend to be humble sorts, civil, respectful, even supportive of their fellow competitors. That holds true until the rubber hits the road, which is to say, somewhere in Central Park, particularly if one gladiator is from Kenya and the other from Ethiopia. Then, there's not only a boatload of cash, but also national pride on the line. Last year, recall a brief exchange between Kenyan Wilson Kipsang and Ethiopian Lelisa Desisa in the final 800 meters.

This year, Kenyan Mary Keitany dropped a 5:14 21st mile and had only Ethiopian Tigist Tufa for company. Very close company. Going around a turn, their forearms clashed, some angry words passed, and it was on. Keitany drove home her point with a withering 5:13 22nd mile, such that Tufa, broken, ended up being passed by her countrywoman Aselefech Mergia for second, and settled for third in 2:25:50 to Keitany's winning 2:24:25. That was pretty satisfying.

---
All in all, New York City was highly entertaining—courage, feistiness, agony, suspense, mystery, beauty, surprise, all in a mobile platform. Good show!

Photo credits: Photo 1 via AP, Photos 2 & 3 via Getty Images, Photo 4 via Flickr