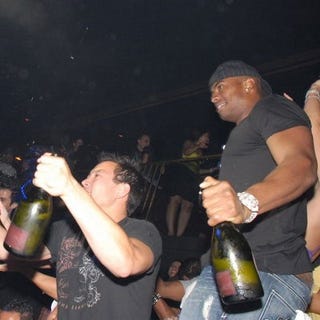 The puzzling kidnapping and subsequent knock-da-fuh-out-ing of Raiders' receiver Javon Walker has finally resulted in an arrest. Las Vegas police have arrested and charged 30-year-old Arfat Fadel and charged him with kidnapping, robbery and other felonies.
Police are still searching for the second man involved, but believe he's still poking around Vegas. Here's some semblance of how Walker got robbed:
[T]he 29-year-old Walker got into a vehicle with the two men early June 16 before he was found beaten and unconscious on a side street near the Las Vegas Strip.
So, if that's the case, then why on earth would Walker make that crackheaded, "Three men came to my hotel room door brandishing guns"- shit statement to The Dirty last week? Maybe he was still suffering from the effects of the concussion.
Police: Arrest Made In Walker Case [SI.com]