Greg Paulus announced his destination for next year and has chosen...Syracuse. He will compete for the starting quarterback spot. One Duke sports editor took the time to say farewell.
Meet Ben Cohen. He is Deadspin's summer intern. Yes, he's a Dukie. He penned a quick farewell to Paulus to introduce himself to you angry people. Give him your usual warm welcome.

Most people remember Greg Paulus as the Duke point guard who, like other Duke guards, is white and has a penchant for falling like a sniper's target and, unlike other Duke guards, was teabagged too much for anyone's comfort. A lot of people, none of whom have met him, hate Greg Paulus, or at least use him as a convenient medium to hate Duke. It didn't help that Paulus flopped and handchecked and floorslapped. His trash-talking (or scrappiness, depending on your perspective) afforded him no pity when he caught a rogue elbow or ate an opponent's shorts.
But when I think of Syracuse's new quarterback, it's a memory off the court, with him looking painfully ordinary — like a regular student, far from the villain he was made out to be. (I also think about the time his junior year when he turned around on a fast break and passed the ball to a teammate who didn't exist, all because a classmate in the front row yelled "Trailer!" That nugget isn't wistful or nostalgic enough for today. But look! I included it anyway.)
On March 2, the day before he played his final game in Cameron Indoor Stadium, a pinny-clad Paulus met with a small group of reporters. Someone asked Paulus about his future, and he said he was still bent on finding a place to play next year.
G/O Media may get a commission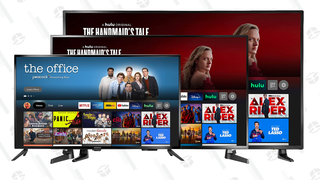 Up to 44% off
Prime Early Access - Insignia Fire TVs
"What, football?" joked a reporter as Paulus started to walk out of the media room.
He stopped, looked back and laughed, acknowledging but trying to dismiss the idea. Still, there was something about that moment that made it easy for most reporters to remember it a month later, when we reconvened in the same room with Greg, who had called a press conference to confirm the ambition he had tried to shake.
I had seen Paulus the night before, right after I finished writing a story about his trip to visit Rich Rodriguez at Michigan. He drove by in his SUV with New York plates and dueling Duke and UNC decals, and before I could think about running down his car, he was rolling down the window to wave as he sped away. His willingness to greet a reporter surprised me. Paulus fit into the Krzyzewskian mold of media relations — say as little as possible as infrequently as possible — but unlike his head coach, Paulus was more friendly than condescending. He never seemed particularly jazzed about answering questions — when he came into the media room to talk about football and saw a throng of reporters, he muttered "Oh jeez," — but to his credit, he always looked reporters in the eye and responded.
It was always difficult to get a grasp on Paulus' psyche, especially later in the career, because he refused to call attention to himself or to speak candidly, without the crutch of cliches. On numerous occasions I heard him say that his favorite food was steak, and he went on to dub himself as a meat-and-potatoes type of guy. The description, trite as it was, captured him better than any reporter ever could.
As a Duke student, not a reporter trying to profile him, I saw a different side of Paulus. I saw him stop for everyone on the quad and pose for photographs with people he had never met. I saw him shoulder the burden of a graduating class' identity, slumping when that weight became too much and hugging Duke administrators on graduation, when he was one of a handful of soon-to-be alumni selected to represent the class on stage. I saw him pay attention and take notes in class, and I saw him slog through a senior year when he was benched, unbenched and benched again. I even felt bad for him when he lost the title of team villain because he no longer played enough to merit the chorus of jeers. (Plus, he had to live with Josh McRoberts for a year and, worse, pretend to like him for two.)
A few days after the curtains opened on the Greg Paulus World Tour, long before he announced Syracuse would be his last stop, I ran into the quarterback-to-be outside Cameron, where he was just arriving for that night's team banquet. He approached me to tell me he enjoyed a column I had written for the school newspaper, and I made a joke about his wearing a Green Bay Packers T-shirt. I asked him what he planned to do next, and, like any other graduating senior without a job offer, he seemed genuinely uncertain, as he was when he hit the same confused notes with Kornheiser and Wilbon. We talked for a couple minutes before he had to run inside. It was 2:56 p.m., and he couldn't be late for one last team meeting. I shook his hand and, with the promise that marks most goodbyes, I told him I would see him soon, knowing full well that such a meeting would probably never happen.
Ben Cohen just finished his one-year term as sports editor of The Chronicle, Duke's student newspaper. He owns a Greg Paulus basketball jersey but wears Grant Hill's No. 33 to games, and he likes the Cameron Crazies as much as you do. Feel free to hate him anyway.