You may not be aware of this, but late-'80s Los Angeles Dodgers pitching legend Orel Hershiser has been missing for almost a week now. He was last heard from on Friday, April 17th, somewhere inside the Coachella Music Festival in Indio, California.
Below is a timeline of what we know about his last public whereabouts, as constructed through his updates on Twitter, which are presented below in chronological order. If you have any information that would aid in his safe return, please contact the authorities or Tommy Lasorda.
The_REAL_Orel: Hey there Tweeters! I'm taking my daughter to Coaching Festival this weekend. Stay tuned for lots of Orel updates!
The_REAL_Orel: Sorry, kids. Not interested in your reefer. I say no to drugs, which you'd know if you read my memoir "Between the Lines".
The_REAL_Orel: Been waiting this porta-potty line behind a group of gay hippiesters in matching tank tops that say "Queens of Leon" for almost an hour.
G/O Media may get a commission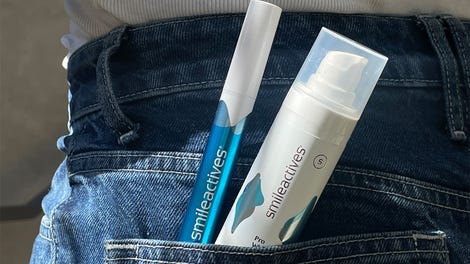 58% off
Whitening Powerhouse Pen & Gel Duo
The_REAL_Orel: Yep, daughter ditched me! Steve Sax used to pull the porta-potty trick everytime he wanted to hit a titty bar. How did I fall for it again?!
The_REAL_Orel: So hungry, but all I could find are seitan vegan-kabobs at this Meat Is Murder MorrissEats Food Truck. Could really go for a Dodger Dog.
The_REAL_Orel: Okay, I have been informed that the sno-cone I just ate was filled with Ecsta-PCP. Is there a doctor or trainer available!?!
The_REAL_Orel: I think I just saw Fernando Valenzuela, but he was naked, and his entire body was painted gold. Confusing, but he looked so beautiful!
The_REAL_Orel: DOES ANYONE KNOW WHEN OR WHERE PINK FLOYD IS SUPPOSED TO START PLAYING!!?
The_REAL_Orel: WOOOOOO! I haven't felt this free since the wife and I had a sex threesome with my Cy Young Award back in that wanton winter of '88!
The_REAL_Orel: Hanging out at a secret party in the LCD Soundsystem trailer. Lindsay Lohan keeps begging me to finger her with my pitching arm.
The_REAL_Orel: Me & my new best friend DJ Steve Aoki constructed a giant Justin Bieber statue made of Sobe Urban Lifestyle Water bottles. Gonna burn it on Sunday!
The_REAL_Orel: The fat guy from the Gnarles Barkley band is giving free back massages in the Vicks Vapor Rub Chillout Tent! CRAZY indeed!
The_REAL_Orel: They won't let me into the VIP area for Jay-Z! I can't believe this! I AM OREL FUCKING HERSHISER! I can still throw a ball 87 goddamn miles an hour!
The_REAL_Orel: Remember when Kirk Gibson hit a game-winning homer and did that pump-fist thing!? I was fucking THERE! So let me in or I'll pump my fist into your FACE!
The_REAL_Orel:OK, smoked some hash out of a gas mask bong with Bruce Willis and a couple guys from the Animal Collection. They said it will mellow me out.
The_REAL_Orel: This Cobrasnake guy says he's a famous photographer and wants to take a picture of me with my junk tucked between my legs. Who's VIP now!?
The_REAL_Orel: Had to run and hide from security after choking Sly Stone because I accidentally thought he was Ricky Henderson.
The_REAL_Orel: Spent a few hours getting my shit together at the American Apparel Naughty Nurses Emergency Station. Could do another one of those sno-cones now.
The_REAL_Orel: WHERE ARE MY FLIP-FLOPS!?! I CAN'T FIND MY FUCKING FLIP-FLOPS!!!! I AM KING OF COACHELLA AND I DEMAND MY SANDALS BE RETURNED NOW!!!!!

Alex Blagg is a writer and comedian in Los Angeles. He previously ran Vh1's Best Week Ever blog and wrote "Blue States Lose" for Gawker. Now he's in charge of Celebuzz. HuffingtonPost listed him as one of 50 Funny People You Should Follow On Twitter , which you can do here.