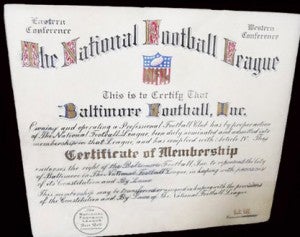 What purports to be the original charter provided by the NFL to the Baltimore Colts in 1953 is now up for auction. The document was apparently thrown out (Robert Irsay?) and later recovered and "restored."
The owner is now looking for a lucky Baltimore fan to bid on this piece of history. Just don't let Art Modell know. He may just steal it.
****
Thank you for your continued support of Deadspin. We've still got stuff for you so stick around, pour a drink.