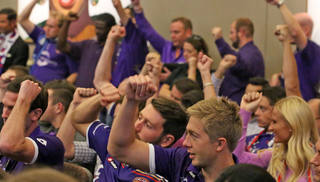 So, it looks like Orlando is getting a new Major League Soccer franchise.
Yesterday, Florida's Orange County Commission green lit a new, 18,000-seat soccer-specific stadium in downtown Orlando. That was the last obstacle to the city getting an MLS expansion franchise.
The stadium, which will cost $84 million, will be partially paid for by $20 million in tourist taxes. Florida's Orange County commissioners voted 5-2 to use the taxes to help fund the project.
With a new stadium, the only question now is who would call it home. The new tenants will be Orlando City SC, a team that currently plays in the USL Pro League, the third-best league in the American soccer umbrella, behind MLS and the NASL. The franchise is chipping in an addition $30 million toward the stadium, to be paid over 25 years.
All Orlando City have to do now is finish their application to join MLS and get a franchise agreement finalized. They were founded just three years ago, and would essentially be receiving a double promotion if play their first MLS match. (They hope to be ready by 2015.) If MLS executives agree, Orlando City be the 21st MLS franchise. The 20th franchise, New York City FC, were announced in May, and are also slated to join in 2015.
Still no word on why MLS needs 21 teams, but whatever.
Photo Credit: Orlando Sentinel