Magic fans, and to a greater extent, the Orlando media, are consumed with the thought that the NBA is out to get Howard. This includes pestering the league office about overturning every single foul he picks up.
I first noticed this when I came across the headline "NBA says Dwight Howard's 14th technical foul will stand." Then, three days later, "NBA says Dwight Howard's 15th technical will stand."
The gist of each article is the same: Howard had gotten T'd up a few days prior, and the Sentinel breathlessly awaited the league review that would confirm it. The infractions were, respectively, rolling the ball like a bowling ball on Sunday, and spiking it on Thursday. Both were upheld.
Howard has the league lead in technical fouls, now with 15. Why is Orlando so bent out of shape over this? The Rasheed Wallace rule, which mandates a one-game suspension for a player's 16th.
Rational fans would say, hey, it's not that hard to not pick up 16 technical fouls over an 82-game season. And if you do, maybe a little punishment is in order. And it's not as if it's a particularly harsh punishment: it's a single game. And with just 12 games left, they're not all that crucual; in the standings, the Magic aren't within three games of anyone in either direction.
G/O Media may get a commission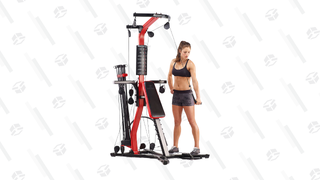 31% Off
Bowflex PR3000 Home Gym
Maybe the league shouldn't have thrown them a bone, overturning two Howard technicals earlier in the season. Now they're expecting it every time, even if the worst-case scenario is a meaningless, Howard-less April game.
Technically speaking, Orlando Magic's Dwight Howard one foul from suspension [Orlando Sentinel]