The fourth day of Oscar Pistorius's murder trial reached an emotional climax as a witness recounted finding the track star kneeling over his girlfriend's body, praying to God to let her live. Pistorius rocked back and forth through the testimony, bowing his head and at one point appearing to cover his ears.
The neighbor, Johan Stipp, is a doctor and was one of the first people to arrive at Pistorius's house after he shot girlfriend Reeva Steenkamp last February. Pistorius's defense is that he believed she was an intruder.
"I went nearer and as I bent down I noticed a man kneeling on her left side. He had his left hand on her right groin and his right hand second and third fingers in her mouth," he said.

I remember the first thing he said when I got there was: 'I shot her, I thought she was a burglar and I shot her'."

Dr Stipp, a radiologist, said that as he examined the 29-year-old's body, there were "no signs of life". He said her pupils were fixed and dilated, she had no pulse and he could see "brain tissue" mixing with blood and hair from the gunshot wound to her head. She also had wounds to her right thigh and right upper arm, he added.
[...]

"Oscar was crying all the time, he prayed to God: 'Please let her live, she must not die'," he said.

"At one stage he was praying that he would dedicate his life and her life to God if she would just only live and not die that night."
After a break, the trial resumed with Pistorius's lawyer examining a second neighbor, Charl Johnson, on what he heard at the time of the shooting. Johnson testified that he heard gunshots, a woman's terrified screams, and a man's voice, much quieter.
"The fear ... in the lady person's calls contrasted with a very monotone male voice," Johnson testified. "The man almost sounded embarrassed to be calling for help."
G/O Media may get a commission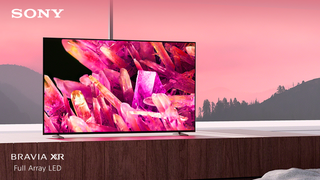 $400 off
Sony 55 Inch 4K Ultra HD TV X90K Series
Pistorius's lawyer, Barry Roux challenged the witness on his recollection, arguing that what Johnson believed were simultaneous screams and gunshots was actually Pistorius screaming while breaking down the door with a cricket bat.
"You have never met the accused," Roux said to Johnson. "You don't know what it sounds like when he's anxious and he screams."
The defense's version is that Steenkamp made no noises because she was mortally wounded, and Pistorius did not realize it was her on the other side of the bathroom door until he had finished shooting.