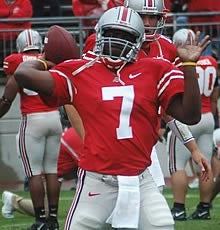 When you're a young, flashy, super phenom freshman quarterback, you have all kinds of opportunities to impress your coaches. You can put it extra time at practice. You can spend your school hours studying game film. You can run extra sprints. The world is at your disposal; you never get a second chance to make a first impression.
You can do some of those things. Any of them, really. Or, you can, you know, get busted trying to pick up a prostitute. Oh, my, Ohio!
Freshman Antonio Henton, a reserve quarterback on the Ohio State football team, is in Franklin County Municipal Court this morning on a charge of soliciting a prostitute. Court records show that he was arrested at N. High Street and 6th Avenue by an undercover police officer at 8:30 p.m. yesterday.
We're no expert in the practice, but we gotta ask: 8:30? Really? Who tries to pick up a prostitute at 8:30? That seems like a middle-of-the-night activity if there ever were one. But Henton's a young kid, and he's got a lot to learn in this life. He's a project, and he'll get it right and step up his game eventually.
Ohio State Freshman Quarterback Arrested [Columbus Dispatch]