Citing police reports, depositions and interviews with Hope Solo's half-sister and nephew, ESPN's Outside The Lines is alleging Solo has been lying publicly about the events of a domestic violence incident last June, and Solo's half-sister and nephew accuse Solo of punching them both in the face repeatedly, as well as "bashing [her nephew's] head into the cement" of their garage.

The best sports movies according to Toheeb Jimoh
As the U.S. Women's National Team begins play for the World Cup, starting goalie Solo has been desperately trying to clear her name through all-too-common puff pieces, appearing on Good Morning America and starring in a humanizing profile from espnW in an attempt to move past a domestic violence case and DUI arrest from the past year. On Sunday morning, OTL took a flamethrower to Solo's reclamation project.
As OTL puts it, "[t]he information stands in stark contrast to the image Solo has presented in court papers, on Facebook, in an espnW article this week and, most pointedly, during a February appearance on ABC's 'Good Morning America,'" where Solo claimed she was a "victim," not a criminal. It's a rare instance of one Disney brand criticizing the work of two other Mickey Mouse operations.

G/O Media may get a commission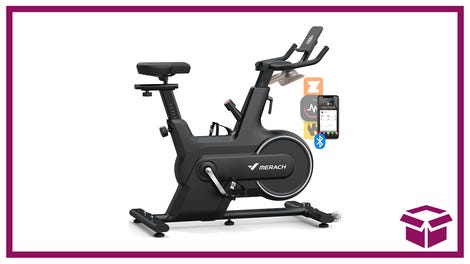 14% off + Coupon
Merach Indoor Cycling Bike
OTL's reconstruction of the night of the incident, which occurred last June, paints Solo as the aggressor. According to the report, a drunk Solo was waiting for her half-sister, Teresa Obert, and nephew at Obert's home. A little before 1 a.m., Solo and the nephew began trading insults, and according to his deposition, Solo punched and struck the nephew multiple times before he was able to subdue her. At that point, Obert said in her deposition she entered the room, saw Solo was subdued and calming down, and asked her son to let Solo go. That's when things escalated. From the report:
But when Obert's son let Solo go, he told police she "immediately grabbed his hair, pulled his head down and started punching him in the face repeatedly." Later, in the deposition, he said Solo "jumped on top of me and started bashing my head into the cement" inside the garage.

"She grabbed him by the head and she kept slamming him into the cement over and over again," Obert told Outside the Lines. "So I came from behind her, and I pulled her over and, you know, to get her off my son. And then, once she got off, she started punching me in the face over and over again."
Obert's nephew would defend himself against Solo with a wooden broomstick, which he broke in half by striking it against Solo's head as she refused to leave, according to his deposition.
42af7029c75af6b2613be22f0a407aca_4740000_802e77bbe5b449b5_Seg1-Frag
Eventually, police arrived at the home and determined from the injuries sustained Solo was the "primary aggressor." According to police reports obtained by OTL, a belligerent Solo berated her arresting officers as she was taken to jail:
Solo was repeatedly insulting [Cpl. Robert] Russell and [Sgt. Phil] Goguen, according to the report, and it was Goguen whom she informed that her necklace was worth more than he made in a year. As Russell was fingerprinting Solo, she "made numerous statements that I was not worth anything, and should be proud to have such authority."

...

As she was being told to walk to the search area, Solo pulled away from an officer, leading her to be taken to a holding cell. There, Russell wrote, "officers took [Solo] to the ground to gain her compliance." It was at this point, Russell wrote, that Solo told one of the officers that if she weren't in handcuffs, "I'd kick your ass."
In the wake of the incident, U.S. Soccer claimed it would investigate Solo in order to determine if a punishment were warranted. Solo was never suspended by U.S. Soccer or her club team, Seattle Reign FC. Solo even practiced with the her club team days after her release from jail, despite her lawyer claiming she suffered a concussion during the altercation with her nephew. Most damning, however, is this:
Outside the Lines found no evidence that anyone with U.S. Soccer contacted prosecutors or police involved with the case, either. Public records requests made to the Kirkland Police Department do not appear to reflect any attempt by officials with U.S. Soccer to obtain the police reports from the case. [Lt. Mike] Murray told Outside the Lines he was not aware of anyone from U.S. Soccer contacting the Kirkland police for information about the case.
Solo's case was dismissed in January, but that decision has been appealed to the Superior Court of Washington, a fairly rare occurrence in the state. Obert has a long-term restraining order against Solo. The U.S. Women's National Team will play its first game of the World Cup—with Solo presumably in net—Monday night.
Photo credit: Getty Images