Oumar Niasse, Everton's likable striker who's gone from sad to soaring in a year's time, won a critical penalty for his team in their 2-2 draw to Crystal Palace this weekend. Today, the F.A. made him the first Premier League player to be charged under their new retroactive diving ban protocol. Which is some bullshit.
First, a look at the incident in question:
As you can see, Niasse was carrying the ball into the box when Palace defender Scott Dann charged him down, bumping into the forward, which caused Niasse to fall down.
Now, for why the F.A.'s charge is a load of horseshit. The penalty call is definitely a soft one, but it's certainly not a dive. Dann's contact with Niasse doesn't seem to have been strong enough to send the player tumbling, but falling down after inarguable contact does not constitute a dive. A dive is when a player goes down either without being touched at all, or after receiving such negligible contact that could not reasonably have impeded the player's progress. What Niasse did was go down easy, which is somewhat analogous to a dive but is not in fact a dive.
Even on its own merits, the decision to award a penalty there isn't necessarily that bad of a call. Dann definitely obstructed Niasse's path by coming into contact with his upper body, and if that contact had happened anywhere else on the pitch, no one would've given if a second thought if the ref awarded a foul. It's a borderline call, clearly, but to go so far as to charge Niasse for diving there is pretty bizarre.
G/O Media may get a commission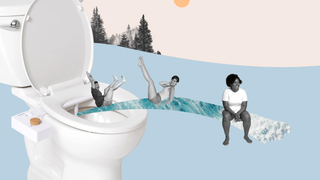 17% off
Tushy 3.0 Warm Water Spa Bidet Attachment
Even worse than the F.A.'s charge itself is what this specific instance means for the system as a whole. The F.A.'s new anti-diving rule, where they can suspend players for dives spotted after matches, is in theory a good thing. Diving is bad—though not as bad as the English often try to make it seem—and finding a smart, unobtrusive way of discouraging it is good for the game.
But the fact that this slight but real contact on a non-famous player is the first time the rule has been put to use undermines any faith that the famously boneheaded F.A. will use their new powers for the betterment of the game. There have to have been more egregious dives this year than Niasse's, and it's hard to shake the feeling that the F.A. picked a foreign player without a big reputation as their first fall guy because they believed there wouldn't be too much fuss about it.
The next step in this case is for an F.A.-appointed panel of three—one former ref, one former manager, and a former player—to adjudge the incident. If all three agree that it was a dive, Niasse will face a two-match suspension which he can either accept or challenge. Hopefully the F.A.'s panel demonstrates a better understanding of what a dive is than the F.A. itself did, and that there is not again cause to start up the #FreeNiasse movement.
[Guardian]