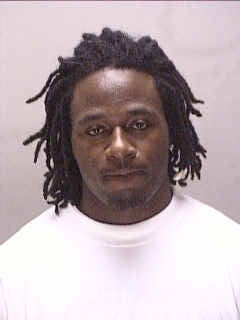 Congratulations are in order for Tennessee Titans defensive back Pacman Jones. He was not arrested, he was merely issued a citation for assault, and it was only misdemeanor assault. He didn't punch anyone, he didn't hit anyone with a pool cue, he didn't even grab anyone's facemask. Just a tiny little citation for misdemeanor assault. If run-ins with the law were NFL penalties, this would be a five-yarder.
A 21-year-old woman accused him of spitting in her face when she pulled another of her friends away from Pacman as he tried to dance with her. According to her, she ended up with a face full of Pacman loogie. That's always been the book on Pac. Difficult to block, even harder to cockblock.
Unfortunately, the book on him also notes that he's a habitual spitter. In August he was arrested and accused then of spitting on a woman. Hey, we all have our fetishes. Pacman's lawyer, for what it's worth, thinks its a case of mistaken identity. He says Pacman left the club around midnight, while the woman claims she was spit on at about 1 a.m.

"Pacman has been trying to avoid any instances or confrontation with anybody," [lawyer Worrick] Robinson said. "Unfortunately he seems to be an easy target for people to approach and make allegations against."

Hm. I wonder why that is.
'Pacman' Jones Faces Misdemeanor Charge [Forbes.com]