This past weekend, Pakistan competed against teams representing Brazil, Great Britain, and Israel in World Baseball Classic qualifiers at MCU Park in Coney Island, Brooklyn. They were swept in the double-elimination tournament, losing to Brazil on Thursday afternoon and Great Britain Friday night, but the box scores don't do much to describe what they brought to the competition.

This was Team Pakistan's first time playing on a proper, manicured baseball field. (Back home they play on a mud and dirt ground loaned to them by the team president's friends, who own a gated community called Bahria Town in Lahore.) For many of the players, it was their first time playing with wooden bats, batting gloves, and proper catching gear, which was provided for them in the team clubhouse upon arrival by WBSC, the subsidiary of MLB and the MLBPA that acts as the governing body of the World Baseball Classic. The players arrived only days before, following 24 hours of travel, and their best pitcher arrived Saturday, after the team had been eliminated, due to visa complications. And they are proud that the team is made up entirely of born-and-raised Pakistanis—a significant disadvantage in a tournament where many teams pack their rosters with professional American players who have questionable ties to the nations they represent.
Pakistan was mercy-ruled during the first game of the tournament Thursday afternoon after Brazil went up 10-0 in the 7th inning. They were mercy-ruled again Friday night, losing 14-0 to Great Britain after the 7th inning.
It was the outcome expected by all. The night before the game against Brazil, at the downtown Brooklyn Marriott where the teams were lodged, Team Pakistan's manager Syed Fakhar Ali Shah told me, "Obviously we know what the result is gonna be, but we are not mentioning it to the players. We are not mentioning it because we want to give them a good heart. We want them to fight like tigers."
"I was watching video trying to figure out the indicators for balls and strikes."
Baseball came to Pakistan in 1992, when Syed Khawar Shah—then secretary of the sports board in Punjab, the nation's most populous province—learned that baseball would be an Olympic sport at the 1992 Summer Games in Barcelona, and decided the sport should be introduced to Pakistan.
Pakistan's sports culture is largely centered around cricket, another bat-and-ball sport that was implemented during British colonial rule. Shah used his connections to receive used equipment from the United States, and received VHS tapes of major-league games to study.
Then he had to figure out how the game was played.
When Shah read that a runner was out when he was "tagged" with the ball, he had to consult a dictionary to confirm that it was just another way to say "touched." Did this mean that any contact with the ball counted as a tagged out? It was unclear. Baseball's infancy in Pakistan resulted in a lot of attempts by the infielder to throw the ball directly at the runner until it was discovered that the ball must be in the glove for a tag.
In 1992, Syed Khawar Shah's son, the aforementioned Syed Fakhar Ali Shah, was seven years old, and idolized his father and wanted to learn everything he could about baseball. Syed Fakhar Ali Shah spent hours watching VHS tapes of MLB games, trying to decode the nuances of the game.
"I was watching video trying to figure out the indicators for balls and strikes, and why when there were three balls he would go to the base, but with three strikes they would be out," Shah said. "I figured out it was when the ball was not over the plate."
Syed Khawar Shah invited his contemporaries in sports organizations in Pakistan—fellow government members, professors of sports—to their home to learn from the younger Shah, who recalls sitting in front of the VCR playing and pausing the games to explain the structure of the sport to his father's colleagues.
Many years later, carrying along his father's passion for baseball in Pakistan, Syed Fakhar Ali Shah gained inspiration from an MLB team out of Arizona.
"I watched the World Series between the Diamondbacks and Yankees, and Randy Johnson—that old guy—his hand was shaking but he still throws the ball and they won," he said. "That was inspiring to me. If the guy who's old can beat the team from New York, I thought if you're young, you can learn to do that."
Most of Pakistan's baseball players have a background in cricket, but the Shahs hope that baseball in Pakistan can offer an alternate opportunity to make a career as an athlete with fewer institutional politics and less competition. (Cricket in Pakistan works much like baseball does in Cuba or the Dominican Republic: The sport is highly competitive domestically, but players of exceptional caliber often choose to pursue the higher stage and higher salaries in Great Britain.)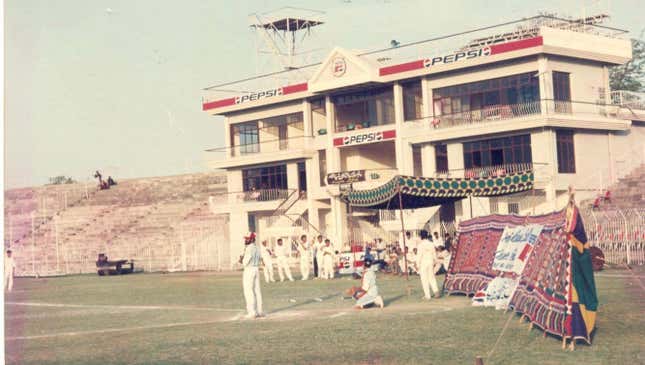 Despite the efforts of the Shahs, baseball still remains relatively unknown in Pakistan. Syed Fakhar Ali Shah said that the Pakistan Baseball Federation once held an open tryout, and of the entire country's nearly 200 million people, only 80 showed up.

"If I had said, 'You can come play cricket, but you have to go to another town to do it,' at least 1000 would show up," he said.
For now, professional baseball exists in Pakistan under the Federation; Syed Khawar Shah has left his job with the government to serve as president. The Federation's four most established teams are associated with the army, the police, WAPDA (the power and water utility company), and the Higher Education Commission, which offer various benefits. Playing for the WAPDA team, for example, earns a player roughly $200 per week plus free utilities.
Syed Fakhar Ali Shah said his father has worked with universities in Pakistan to begin providing full-ride scholarships for baseball. (It should be noted that in the United States, Division I college baseball teams are allotted 11.7 scholarships per team, which are divided among players.)
"The plus is the people whose parents are not rich," he said. "When a guy did this he told his other friends, and then we're getting calls from parents: 'He's not a good baseballer, but you teach him for 2-3 months, then he will go to university.'"
Syed Fakhar Ali Shah recognizes that to build a viable baseball culture in Pakistan, the sport must be introduced when the players are still teenagers. He takes pride in the national team, but knows that if there were one player who began playing as a teenager with proper instruction, he'd immediately be the best player on the team.
Pakistan Federation Baseball is a member of the Baseball Federation of Asia, whose championship includes Japan, Korea, Taiwan, China, and winners of two regional cup games. Pakistan and the Philippines were the winners of the regional cups.
The workings of the WBSC are slightly opaque, but Pakistan was selected for the fourth and final round of the World Baseball Classic qualifiers after placing fifth in the 2015 Asian Baseball Championship.
Pakistan is currently ranked 23rd in the world by WBSC, based on the outcomes of regional championships.

When the players arrived in New York, jetlagged and extremely out of their element, they found a fully-stocked clubhouse, bearing their uniforms and professional-quality playing equipment.
"I tell them this is the lowest level you will ever play in the major leagues and you still see three types of shampoo, three types of Gillette," Shah said. "They feel like the royal family."
"Give Pakistan some credit."
Thursday afternoon's game between Pakistan and Brazil went down in the books as a blowout, but with 1,210 people in the stands at MCU Park, Team Pakistan showed some spark.
Batting leadoff in the top of the first, Pakistan centerfielder Muhammad Sumair Zawar ripped a base hit up the middle. The entire team—standing against the dugout rail, as they'd do for the entirety of both games—went wild. The few spectators and the handful of reporters in attendance made very clear they were impressed, and surprised. Expectations were low, and even a hard-hit single to kick off the tournament was worthy of notice.
But the team's tenuous fluency in the game made itself quickly obvious, as shortstop Arsalan Jamashaid misinterpreted a dropped third strike and started heading to first, prompting Zawar to head to second and then be picked off at first by Brazil first baseman Dante Bichette Jr. (his mother is Brazilian).
Pakistan played what would, coming from a viable team, have appeared to be rusty or sloppy baseball. They missed double plays by just seconds, they made hard contact directly at Brazil's fielders, and they especially struggled with baserunning. The most obvious adjustment for Pakistan was on the basepaths, as they struggled to calculate the timing of Brazil's defense.
Catcher Umair Imdad Bhatti was caught trying to stretch what was fairly obviously a double into a triple in the 6th inning; Fazal Ur Rehman was out at third on a force as he overestimated an infield hit in the 7th. But the game's most revealing play came as Zawar attempted a diving play in right-center that fell past him and allowed Brazil's right fielder Juan Carlos Muñiz to score a two-run inside the park home run.
(Mobile users may need to tilt their phones to watch the video; it can also be seen here.)
This was Zawar's first attempt at a diving catch: In Pakistan, the fields on which they play are too muddy and rocky to risk throwing yourself to the ground. The outfield at MCU Park was unfamiliar to Zawar, one of two players who have played for Syed Fakhar Ali Shah since 2000, but welcoming enough for him to attempt the dive for the first time in his career during an international tournament game. It didn't work out for Zawar, but does that matter?
After the game, Syed Fakhar Ali Shah told me his team had learned from the game, that "minor mistakes became major mistakes," and that those mistakes had "let Brazil win."
Brazil has eight players who play for major-league affiliates. They are managed by Hall of Famer Barry Larkin and coached by LaTroy Hawkins and Steve Finley. That they put 10 runs on Pakistan by the seventh inning was to be expected. But Pakistan held them to three scoreless innings, and the team considered it a moral victory regardless of outcome.
During a postgame presser, Barry Larkin said this:
"Give Pakistan some credit. They pitched well, they competed. I was impressed overall. I was impressed with their pitching, I think defensively was probably the weakest part of the game. I noticed that some of the bat speed of some of the hitters—it's a cricket country—they were able to get on top of some pitches up in the zone, that surprised me. But overall, yes. One thing I expected was for them to be very competitive, and they were.
"You can obviously see it's a developing country and the game is developing in their country and they're making some of the same mistakes we made seven years ago. But [I was] definitely impressed overall."
"I felt honored by what he said," Syed Fakhar Ali Shah told me. "The guy who said that was not just a regular guy, but a Hall of Famer."
"Looking at me, you would not assume I am Muslim."
Team Pakistan's most substantial coaching came during two weeks in late August and early September of this year, when retired high school baseball coach John Goulding agreed to travel to Lahore to help prepare the team for the WBC qualifiers. Goulding coached high school baseball for 40 years in the Bay Area, and, notably, coached teenage Barry Bonds on an American Legion team.

Goulding was connected with Team Pakistan through the Fellowship of Christian Athletes, who had put out a call for coaches who would be willing to travel to coach the team.
Once in Lahore, Goulding coached the players twice a day on their makeshift ground.
"The boys had been together for eight months," he told me. "They'd left their jobs, their families."
Goulding agreed that the baserunning was the team's biggest weakness.
"We could teach to hit, pitch, and throw—some of the mechanical things—but the instinctual field sort of things, decision making, that's just … the more they play, the more they'll know," he said. "They just haven't played enough games yet to have all those situations confront them, and they're very difficult to teach—which balls you should go and which balls you shouldn't."
"The thing I've said to most people is that they love being coached," Goulding said of the team. "They wanted to learn the game in a very passionate way."
When he told friends and family he would travel to Pakistan to coach baseball, Goulding says his decision was met with concern.

"The first comments were, 'Really, do you wanna go? Do you know the country's all Muslim and that Muslims don't like Americans?' First of all, they're people. Just like me. And whether they have a different belief system or not is not going to determine how I treat them as a person."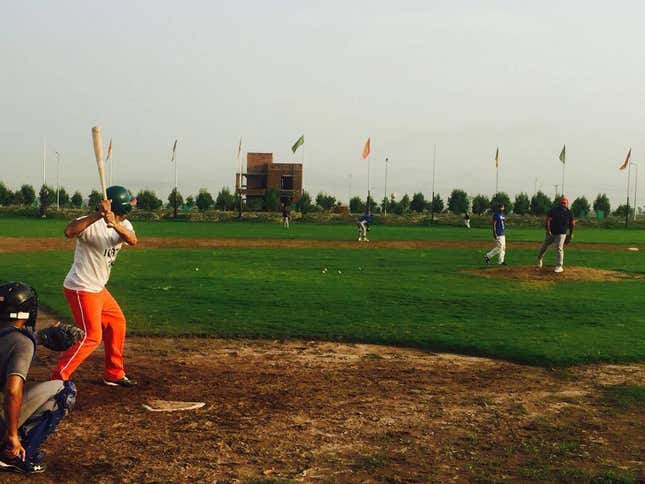 The country's Muslim identity was actually the team's most attractive component to their pitching coach, Pete Durkovic.

Durkovic played five seasons in the minors for Detroit Tigers affiliates, and finished his baseball career in 2000 in an independent league. Durkovic is 43, but told me he felt he could still play if given a chance by Team Pakistan. When he learned Pakistan would play in the qualifiers, he reached out, anxious to know if his own Muslim identity would make him eligible to join as a player. Durkovic is of Montenegrin descent, though, and was therefore offered a role as the team's pitching coach. The team met Durkovic only upon arriving to America for the tournament.

Durkovic said that his family had felt the need to conceal their identity in the United States, and that while his given name was Naser, he was given the American name Peter when his parents decided to name their four children, and themselves, after characters from The Brady Bunch. "I am Peter, my sister is Janet, my mother is Carol," he said.

He told me that he was always, quietly, the only Muslim in the clubhouse when he played in the minors. "Looking at me, you would not assume I am Muslim," he said, and that he did not openly offer his religious identity to his teammates.

Working with Team Pakistan was Durkovic's "coming out of the closet" as a Muslim, he joked. He proudly wore the crescent moon on his team ballcap as he sat alone in the harsh sunlight Wednesday afternoon, casually watching team Great Britain's batting practice ahead of their game Friday.

"You don't see professional baseball players show this much emotion"
By Friday afternoon, Team Pakistan had easily established themselves as the captivating underdog. They had taken Thursday's loss in stride, and before the game team members were handing out small Pakistani flag pins to baseball officials, spectators, media members, ball boys—anyone in sight.

Behind the team dugout stood two white men, one of whom in a Team Pakistan hat, draped in a Pakistani flag. I asked Syed Fakhar Ali Shah if he knew who they were, to which he replied, "No clue. But he was wearing the hat so I gave him the flag."

The two men called players by name as they went onto and off the field following batting practice, signaling for them to sign their $15 game tickets.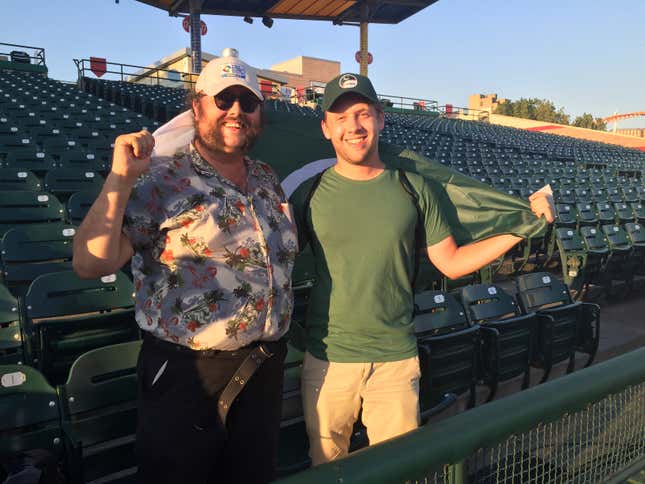 They told me they are big baseball fans who thought it was "really cool there are people wanting to bring baseball to a country where it isn't as accessible," and that they found it "cool and refreshing to see the team's enthusiasm."

"You don't see professional baseball players show this much emotion," they noted.

They had decided to support Pakistan over the other three teams because of the underdog story. But when I asked their names, I was left with one obvious question.

"Ben Kleinman," the man in the Team Pakistan hat said.

"Charles Berman," said his friend, sporting a wild beard and a Hawaiian-print shirt.

"Are … are you guys Jewish?" I asked, causing them both to laugh. "Do you know that Israel is also playing in this tournament?"

They had chosen the underdog narrative, and they were sticking to it.
This was all part of the plan
Friday night's game was less hope-filled for Team Pakistan than Thursday afternoon's outing, resulting in only two hits for Pakistan and 14 runs for Great Britain.

It was the type of unspectacular contest you would likely have expected upon learning that Pakistan has a national baseball team and that it would be competing against teams comprised of minor leaguers with tenuous connections to the country for whom they play.

Great Britain was up by 10 runs by the 5th inning, and the mercy rule was invoked in the 7th.

(Mobile users can watch here.)
Despite the tenor of the game, the entirety of Team Pakistan stood on the top step of the dugout, cheering wildly for every strikeout.

Israel would go on to win the World Baseball Classic qualifiers with a 9-1 win over Great Britain, and secure a spot in the World Baseball Classic in 2017.

Team Pakistan will go home, but Syed Fakhar Ali Shah says this is all a part of the plan.

Building a viable baseball team is in the best circumstances a task that take years, and when Syed Khawar Shah decided to bring baseball to Pakistan, he had two goals in mind: Get them to an MLB tournament, and get them to the Olympics. The World Baseball Classic qualifiers might be the lowest rung on the ladder of MLB-affiliated tournaments, but the Shahs count it as their first major step in showing the world that Pakistan can and does play baseball.

Pakistan will have to rank among the top four teams in Asia to qualify for the Olympics when baseball returns to the Games in 2020. During the 2015 Asian Baseball Championships, Pakistan finished in 5th place, ahead of the Philippines and behind Japan, Korea, Taiwan, and China. It would take an ouster of Taiwan and China for Pakistan to qualify for an Olympic qualifying tournament, assuming the IOC continues to use the qualifying method it used for baseball in 2008.

Syed Fakhar Ali Shah will take this experience back to Pakistan, and he will hope his players will spread word of the accommodations they received in Brooklyn, and the quality of the playing field. He has added a new dream to the one created by his father: Getting a player from Pakistan into the minor leagues. It will likely not come soon, as Team Pakistan's players are all already of playing age and weak on fundamentals, but Shah says that "If even one player gets selected in the minor leagues, that will be the jackpot for Pakistan. Even if he only gets $1000 per month, that will show there is a reward for it. That will get the youth into it. That will build baseball in Pakistan."

[Header image by Jim Cooke]