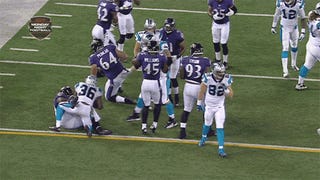 Running back Armond Smith is fighting for a spot on Carolina's depth chart, but his chances seem a little bleaker after being kicked out of last night's preseason game against Baltimore.
To be fair to Smith, whatever his intentions, he didn't quite connect with Albert McClellan's sensitive bits. The Ravens linebacker said he was nursing a sore leg after the game.
"Yeah, he kicked me, he got me," McClellan said. "I think he thought I was holding him down. Our legs got tangled up. He hopped up and kicked me. I did my best to keep my cool."
Smith apparently thought McClellan was trying to tie up his legs after a play, telling coach Ron Rivera "he twisted on me."
[Baltimore Sun, gif via Diehardsport/The Big Lead]