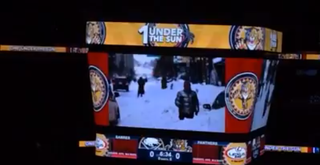 The Florida Panthers showed a video before Saturday night's game against the Sabres, contrasting Buffalo's awful, cold weather with Florida's ideal conditions. The gag used photos from Buffalo's deadly November snowstorm, and Sabres owner Terry Pegula, who was in attendance, did not appreciate the joke.
From the Buffalo News:
"People died in that storm," Pegula, a Florida resident, told Panthers General Manager Dale Tallon during a press-box conversation held within earshot of Miami Herald reporter George Richards. "That's not funny."

Tallon apologized, according to Richards. Tallon told Pegula and Sabres GM Tim Murray, who was also in the conversation, he didn't see the video but was sorry the organization created it.

"I can't comment on it because I haven't seen it and don't really know what's in it," Tallon told the Herald. "But if they're upset, rightfully so."
If the Panthers didn't use photos of a snowstorm in which people died, they probably would have been in the clear. (You can watch part of the video here and judge for yourself.)
Top image via Facebook
H/t to Matthew