It's a pleasantly sweaty June night at the bucolic, Live Nation-owned Xfinity Center in Mansfield, Mass., and Hayley Williams looks like she's ready for a fight. The lead singer of Paramore is sporting the kind of high-waisted shorts, knee braces, and white high-tops you might associate with a sparring boxer. But though she concedes that a good chunk of her pop-punk band's catalog has a bit of an angry tinge to it, Williams's effervescent patter and electric charisma tonight betray a more benevolent aim: She's a congregation leader, and the crowd has gathered here tonight to scream its heads off along with sneakily empowering tracks like the bruised-not-beaten "That's What You Get" and the steadfast "Proof."
Not to mention the latest single off Paramore, the band's fourth album and probably the best pop full-length of 2013. The catchy, defiant "Ain't It Fun" is the band's churchiest hit yet; it closed out the band's 75-minute set and was undoubtedly the highlight, even when preceded by a number of confetti cannons, a track from a Twilight soundtrack, and a sing-along led by a pair of sisters plucked from the audience.
The song derives its fun from the way it masters a ton of pop traditions: It opens with a kicky keyboard hook that doubles as a piece of brain Velcro, and the withering lyrics that follow ("You're not the big fish in the pond anymore / You are what they're feeding on") put it squarely in the pantheon of Great Pop Kiss-Offs. But those lyrics are counterbalanced by a precisely metered cheeriness that brings to mind Dolly Parton's "9 to 5." Williams is a Tennessee native, and she shares with Dolly a knack for delivering hard-knocks lessons with an endearing smile, a flair for killer one-liners, and a formidable set of pipes.
"Ain't It Fun" also, quite crucially, has a choir.
I watched Paramore perform "Ain't It Fun" live late last year at the Boston installment of Jingle Ball, the Clear Channel-sponsored holiday-concert series where big pop names are limited to only their most recognizable hits. It wouldn't be released as a proper single for another couple of months, but on that snowy December night, the crowd at the less-bucolic TD Garden was immediately drawn to the bridge, which recalls both Madonna's "Like a Prayer" and a particularly finger-waggy newspaper op-ed about millennials. "Don't go cryin' to your mama / 'Cause you're on your own in the real world," that choir sings, as Williams alternates between joining the chant and countering it with her own wails.
G/O Media may get a commission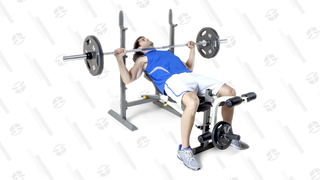 10% Off
Marcy Folding Weight Bench
It's a profoundly fun part to sing, and hearing thousands of people do just that felt weirdly cathartic—in December, the jolt came from the thrill of hearing a willing crowd turn a not-yet-hit into a bona fide smash in real time, while in June, "Ain't It Fun" sounded like a sharp corrective to a world that's simultaneously coddling and cruel, with the balance all out of whack on both sides of the equation. "Ain't it fun? You can't count on no one," Williams sings, her voice bright and cheery, turning a double negative into an ingeniously barbed positive.
"Ain't It Fun" has an explicit and pretty ruthless message: Nobody owes you anything, and you aren't the center of the universe, and please don't go crying to your mama, or your Twitter followers, about it. It's a lesson that quite a few entities in 2014, from grudge-bearing personal essayists to corporations whining over their right to personhood, could probably stand to hear daily. But part of the reason it lands so well is because Williams wrote it about a very specific, very close target. "That song is to myself, actually," she told Entertainment Weekly shortly after Paramore's release last year. "It's very sarcastic, if anything. I needed a kick in the butt a little bit. I thought I was being a whiny baby about being away from my family. I needed to hear those words. No one else was saying that to me, so I had to say it to myself."
It's probably a little too late for "Ain't It Fun" to be 2014's Official Summer Jam; it peaked on the Billboard Hot 100 at no. 10 a few weeks back, the band's first career Top 10 hit, and has since been crowded out of the chart's upper echelon by much more risible—and lyrically trite—tracks like Magic!'s faux-reggae "Rude" and Pharrell Williams' unkillable "Happy," not to mention all those tracks where Iggy Azalea rhymes words with themselves while impersonating a T.I. impersonator. But it's still an undeniably fantastic pop song, and a timely one. While it's true that the world is getting increasingly cruel on all sides, the line between legitimate complaints over inequality and histrionic shouting from people who resent falling from life's catbird seat is getting ever more blurry.
"Ain't It Fun" is this generation's version of Cher yelling at Nic Cage to snap out of it, and as my friend John Gary noted after the Isla Vista shootings prompted a particularly gnarly bunch of Twitter conflicts, its existence on YouTube can easily turn it into a wink and a nod toward those people who are OK with taking cheap shots from the cheap seats, whether they're men's-rights activists demanding women explain in detail their reasoning for tweeting along with the #YesAllWomen hashtag or enraged commenters going for the "you're ugly" jugular in lieu of actual argument. It even works on those with loftier aspirations toward expressing their put-uponness—imagine if the writer who'd pitched the absurdly put-upon "Why aren't there more men on Orange Is The New Black" piece that ran on The Atlantic's website last week simply received the YouTube link for "Ain't It Fun" as a quick-and-easy "Nah, dog."
The great thing, too, about quoting "Ain't It Fun" to others is the way doing so inevitably causes the lyrics to resonate with yourself, to not just understand the words, but to inhabit them. It's a song about getting over yourself that also somehow makes you feel less alone; it tells people to quit hogging the spotlight, and come join the rest of us who are onstage and trying to figure things out, too. "You're on your own in the real world" becomes a mantra, and if you repeat it enough times, the lesson that the struggles of everyday life probably aren't special or unique, but just something else to get through (and/or tweet about) might eventually plant itself in your brain. Being part of the choir ain't necessarily a bad thing.
Maura Johnston lives in Boston, where she teaches at Boston College and edits the culture periodical Maura Magazine. She also spins records at WZBC and writes for the Boston Globe and Rolling Stone. She's on Twitter @maura.
Photo by D Dipasupil / Getty.
The Concourse is Deadspin's home for culture/food/whatever coverage. Follow us on Twitter:@DSconcourse.