We can't keep letting PSG do this. Yesterday, the French giants took on Cyprian giants/world ants APOEL in Champions League play. This was a match even schizophrenic PSG couldn't muck up, right? No. Instead of a dominating performance on a day full of them, we saw another typically lackadaisical display from the Parisians before one moment of individual inspiration saved their asses, serving as even more evidence that PSG's super-talented, constantly underachieving stars combine to form a bullshit team.
The worst part is how close PSG are to pulling the wool over everyone's eyes. A scrappy win away in the Champions League, even against a team like APOEL, isn't always reason for concern. Every season one of those champions from a small country will take points off one of the big boys, so avoiding that fate, however unconvincingly, can be praiseworthy in some circumstances. The problem with PSG is that the match evinces the fundamental problems with this team—problems many hoped were finally being rectified after a huge Champions League win a few short weeks ago. If PSG want to be thought of as one of Europe's elite teams, as they showed they can be during their shockingly convincing win against Barcelona during the last round of UCL fixtures, they have to start living up to that standard.
While not on the level of importance the phrase was coined to address, PSG definitely suffer from the soft bigotry of low expectations. Fans see PSG snatch up a grip of the world's best players every summer, hear about their up-and-down Ligue 1 performances in a league no one pays attention to, and watch the motivated version of the squad make a deep run in the Champions League before losing to a more established club, before winding up the year as French champions. It's a script we've come to accept and expect, and our acceptance of it is probably part of what hampers the team from reaching the greatness it should.
G/O Media may get a commission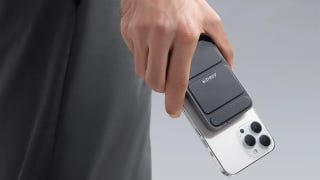 15% off
15% off Anker Top Ten Products
Take charge
Treat yourself to a portable power bank, a magnetic wireless battery for iPhones, or even a solar generator. There is a reason these are in the top ten. For instance, the Anker 747 Power Bank is a 4-in-1 charger utilizing USB-A and USB-C to be capable of charging up to four devices at once. Great to take with you when traveling and in need of keeping your phone, laptop, and even Nintendo Switch powered on.
Signs of this emerged ahead of that famous win over Barcelona. Going into the match, PSG had only won once in their previous five matches. They settled for draws against midtable-at-best French teams like Rennes and Toulouse, couldn't beat Lyon at home, and putzed away a win in the Champions League away at Ajax. It was another case of typical PSG coughing up points at questionable times, more proof that they don't take league matches very seriously and only put together a complete performance when absolutely necessary.
Barcelona were expected to roll through Paris and flatten the city's flagship team missing their talismanic player, the injured Zlatan Ibrahimović. For their part, not only had Barça picked up all the points in every match of every competition, they hadn't even conceded a single goal. It was supposed to be a bloodbath that could end manager's Laurent Blanc's season.
Only it didn't turn out that way. Javier Pastore not only took the empty slot in the lineup due to Zlatan's absence, he even played in the Swede's central role. He was the middle man in the front three, flanked by Lucas Moura on his right and Edinson Cavani on his left. It was a position he thrived in.
The Parisians took the match directly to the Spaniards, immediately pressing any Barcelona player on the ball with multiple runners. While the space of any Barça ball carrier was being closed down, the other PSG players would cut off any passing angles, making it difficult for Barcelona to get into their passing rhythm. This resulted in lots of back passes from midfield to defenders, and either a PSG tackle and an instant counter or a low-percentage long ball to bypass the pressure that PSG could collect when they didn't find the right target.
Pastore was the fulcrum of both PSG's successful pressing and countering strategy. While he played centrally, it wasn't as a typical striker. He dropped a little deeper on defense to get all up in Sergio Busquets's grill, which limited the Barça defensive midfielder's ability to link defense to midfield. He made four tackles on the day, an unusually high number for a forward.
Just as critically as his defensive efforts were Pastore's attacking jaunts. PSG were ruthless on the counter, collecting the ball when Barça lost it and immediately hitting a pass out to one of their constantly moving attackers. Pastore often drifted to either wing to provide a passing option in transition. When he got on the ball, he used his deceptively crafty dribbling skills (deceptive because the dude can't get out of about third gear, yet still gets by defenders with his tricky feet) and pinpoint penetrative passing to spur on a ton of dangerous attacks. That two of PSG's three goals came from poor marking on set pieces actually undersells how often they threatened on fast breaks.
After hanging on to the 3-2 result, PSG were in for all kinds of praise. They had shocked the world by showing up for their own funeral and turning it into a bar mitzvah. Fans and the media were abuzz at what a PSG side that was actually working could accomplish.
But, again, this was a bullshit narrative. PSG are as talented and deep as any club in the world, and they should never, under any circumstances, go into a home fixture expecting a massacre. Even in a direct, player-for-player comparison between PSG and Barcelona, the Spanish club doesn't have such an advantage that you'd expect a blowout. Barça tried everything they could to buy Thiago Silva and Marquinhos, and were rumored to have interest in David Luiz before he went to Paris. PSG also employ three former Barcelona players and easily have a deeper bench when everyone is healthy. Basically, a team that has bought as often and as well as PSG can match up favorably with anyone in the world.
As if on cue, PSG responded to the Barcelona result by reverting to form in their next match. At home against Monaco, they had to settle for another tie in a match they had all but sealed going into the dying minutes. Now, you might see Monaco and remember the free-spending side that gave the Parisians a run for their money in the league last season and think a home draw isn't that embarrassing, but you have to remember that last season's team has been gutted. Monaco lost by far their two best players, the Colombian duo Radamel Falcao and James Rodríguez, and didn't really look to fill their places in the transfer market. The club did have some talented younger players to hand over those lost minutes to and are not as bad as many would expect, but a PSG team fresh off their biggest win at least in a couple years—one that looked like it could galvanize this famously distractible club—should've won.
The Monaco debacle was immediately followed by the international break, which gave the media time to focus on something other than PSG's umpteenth Jekyll-to-Hyde transformation. A couple of weeks later, the squad was again reassembled to face Lens.
And again, a disinterested PSG side showed up expecting to win and went 1-0 down in under 10 minutes. Luckily, that seemed to wake the players up and PSG proceeded to take the lead before the first half was over and ended up winning 3-1. But the symptoms of what we hoped that Barcelona match finally cured were all too evident, and were still present during yesterday's match against APOEL.
So why aren't PSG as good as they should be, as good as their talent would make you believe? The only reasonable explanation pins things mostly on their motivation problems. In the watered-down Ligue 1, where there is no consistent rival for league dominance and few teams are even pretty good, the club and its players don't have the same hunger to prove their worth every week. Their best players know their salaries and transfer values compared to their opponents, and they know that there's nobody on the other side of the pitch and maybe only a handful of guys in the entire league outside of their locker room that can ever come up with the greatness that comes naturally to them. And so they confront opponents with an arrogance that will often win out even without their best play—see the Lens and APOEL matches—but also will inevitably result in the kind of mentally dead performances that gives them their reputation as underachievers in the league.
This is evident in their performances over the past month. The team saves the level of effort we saw in that Barça match for the Champions League and two or three Ligue 1 matches that really matter. Comparing the defensive pressure they put on Barcelona from the first whistle to the last to the idle, uncoordinated version they put to Monaco, Lens, and APOEL, they seem like two completely different teams. The speed of their counters, the number of supporting runs, and the urgency of their attacks also goes missing in the majority of their subpar performances.
The smaller teams they play might lose the possession battle, but these are not parked buses PSG strive to overcome; each of those teams defended manfully but were not afraid to attack the Paris side with numbers. Not only will APOEL be disappointed to not have clung to the win yesterday, they have to feel like they should've scored first either when striker Cillian Sheridan shot right at PSG's keeper in the first half or when Tiago Gomes's header was cleared off the line by David Luiz not long into the second.
Without a true title rival providing an external motivation to push for improvement, and outside of the weekly scrutiny of the soccer world's critical standards—a result of playing in said uncompetitive league no one watches—PSG can't help but rest on their laurels. But the club isn't going to reach its goal of winning the Champions League by coasting on the weekends and only showing up on Tuesdays and Wednesdays
Which is where those of us who are tired of seeing some of the world's current bests—Silva, Ibra, Cavani—and a couple possible future greats—Verratti, Lucas; hell, Pastore's only 25 and almost always looks good when he gets a game—skate by with little more than a casual rebuke of "Oh, that's just PSG being PSG" should remind ourselves of how good they can be when they're up for it. Regular PSG should look more like Big Game PSG, and until they do, PSG will remain fancy-looking, at times deceptively appealing bullshit.