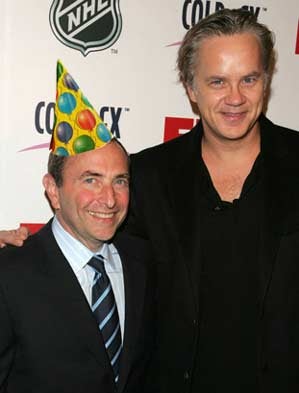 The NHL Closer is written by Greg Wyshynski, of FanHouse and The Fourth Period. He is also the author of Glow Pucks And 10-Cent Beer.
Stealing something from Canada and moving it South? Giving away tickets and then claiming attendance records? Mismanaging a mainstream sport into the pop culture margins and cable television obscurity? The options are endless. So tell me, friends: How do you plan on commemorating the 15th anniversary of Gary Bettman's hiring as commissioner?
I've interviewed Bettman twice. The first time was a brief conversation about fighting at a Hockey Hall of Fame reception while I was on the bullet train to Shit-Faced Town (it was Rod Langway's year, so I was simply participating in the spirit of the inductee). The second was at the National Press Club, a more sobering affair where we discussed the NHL's post-lockout media plans. Both times he exhibited the informed but standoffish tone that has endeared him to ownership but that repulses nearly everyone else. Fans loathe him. Owners like Ed Snider, chairman of the Flyers, want to give the guy playful noogies. Snider said this week that Bettman "has done an absolutely fantastic job. There is no equivocation on that at all." Well, of course there isn't: He shut down the League to pump up the value of franchises and keep Snider's peers from fumbling towards bankruptcy, while still allowing Comcast and Cablevision to fleece teams like the Sabres. What's not to love?
If you're Jim Kelley of Sports Illustrated,, that economic acumen is enough to qualify Bettman's first 15 years (what can I say, I'm a pessimist) as a success. If that's the minimum requirement, I'll agree that Bettman has succeeded as a competent middle-management paper pusher who was unfortunately promoted into a company spokesperson role. (Seriously, do these Halloween mask faces come naturally or does he practice by chewing a Habanero pepper?) But I believe there are other, higher standards for a guy who was selected 15 years ago based on his marketing prowess for the NBA. Failures in television innovation and hockey star-making? That's on Bettman. An entire generation of young sports fans salivating for violence and personality that have yawned at the NHL, especially while the League tried to market Peter Forsberg as a 70-goal scorer in a trap-happy era where 30 was a great season? That's on Bettman, too.
"Fire Bettman" ... "Bettman Sucks" ... he somehow gets too much blame while simultaneously getting too much of the credit. But that's Commissioner Contradiction for you: The man who, depending on whom you believe, has both destroyed and saved the NHL. Happy anniversary, Gary; I'll celebrate by earnestly praying for the arrival of your most rewarding day on the job: Your last.
Russian Rhinoplasty. Hell of a night for Alexander Ovechkin in Washington's 5-4 overtime win against Montreal: "I broke my nose, I have stitches, I score four goals. Everything go to my face." Sounds like the tagline for "Hockey Bukkake."
Also last night: The Boston Bruins remained red hot, as the new Cam Neely, Milan Lucic, had two points in a 4-1 over Ottawa. Ray Emery will take a crack at starting on Saturday in Toronto for the Senators. Tampa Bay got a big win against Vancouver, who was missing three defensemen. Great news for Bolts fans; not-so-much for the 800 scouts following Tampa from city to city like hungry puppies. And JP Dumont extended the longest current points streak in the NHL to 16 games ("What streak?" is what he told the media after the game) in Nashville's win against Columbus, as the Predators have decided to wear their pretty Tootoo for another two years.
Puck Headlines
* Some dude turned his garage into a hockey rink. And I'm not allowed to smoke a cigar in the house... [Northern News]
* Mirtle goes to HockeyTown, and decides that "forty-one games of octopus funk might be a bit much." [Mirtle]
* Cameron Diaz is annoyed with Paris Hilton and the L.A. paparazzi. So she's been scoping apartments in New York City — and may end up moving into Sean Avery's building in West Chelsea. Maybe Avery can join in if Cameron and Eva Mendes decide to stage another farting contest. Or maybe not. [Sydney Morning Herald]
* "Lost" returned last night. I have it DVR'd. Because I was too busy watching "Lost: NHL Edition" on BMR. [Barry Melrose Rocks]
* If this is really Ales Kotalik's lady friend, I believe that she is, as the kids say, "teh hot." [Southern Bohemian Hockey]
* Steve Downie needs an education. Perhaps with Anaheim in Philly this weekend, he'll get some tutoring. [PhillyBurbs.com]
* Finally, former Buffalo Sabres forward Rob Ray took pictures with fans at a charity event held in a Wal-Mart this week. Good to see his public relations skills have improved since his playing days: