And Kevin Millar broke it up! Here's what Heyman's had to say on the subject:
That's Kevin Millar's Twitter handle, sans an "L," along with that of Mike Teevan of the MLB Public Relations Department. Neither of the other two are talking about the near-fight, and Pat the Bat doesn't appear to have a Twitter, so it's only Heyman's word we have to go on at the moment. Phillies beat writer Kevin Cooney asked Heyman, "was that last night?" Heyman responded, "technically, this morning. but yes." College freshman Seth Guttman, tweeting under the handle @JewSwag24, said, "WTF!!! I would have had money on Heyman! #FuckPatTheBat," to which Heyman diplomatically replied, "lol. i wouldnt put too much on that one."
What might The Machine's beef have been? Well, an old CSTB post details Heyman's tendency to reach for the backhanded compliment when discussing Burrell, and earlier this year, Heyman said he'd vote Burrell off the Survivor island even before he voted off Jeff Kent (seriously, he tweeted that exact thing). A Yardbarker post from 2010 titled, "Jon Heyman Isn't Fond of Pat Burrell" oddly leads to a page in Japanese, so that's a non-starter. If anyone knows the root of their beef, send it here, or put it in the discussion.
Regardless of the cause, it's safe to this only burnishes Pat Burrell's already sterling reputation in our eyes. Who hasn't wanted to beat up America's wealthiest baseball writer?
G/O Media may get a commission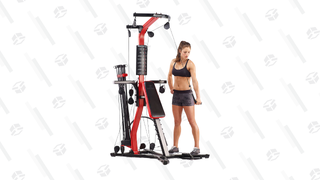 31% Off
Bowflex PR3000 Home Gym
h/t Anthony R.