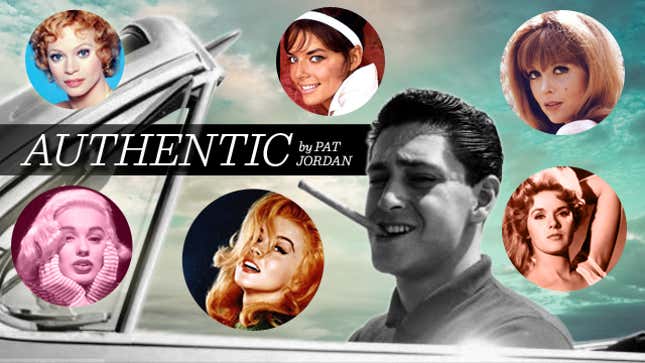 No character in sports was more authentic than Robert "Bo" Belinsky, a left-handed pitcher in the '60s. Bo personified "cool," real cool that was intrinsic to his nature, not his public persona. As a rookie, Bo pitched the first no-hitter in California major league history for the Angels. It made him a star and an instant celebrity whose name became synonymous with a lifestyle that was cool and slick and dazzling. But that no-hitter was the high point of Bo's career, which, after eight years, saw him leave baseball with a 28-51 record.
How running an NFL team is like running a restaurant | Chef Emeril Lagasse
After his no-hitter in 1962, Bo said, "If music be the food of love, by all means let the band play on." Bo instantly became the first original playboy-athlete. He fucked Ann-Margret, Mamie Van Doren, Tina Louise, Connie Stevens, and he partied with Eddie Fisher, Dean Martin, and Henry Fonda. But in those days fucking Hollywood starlets and showing up at his team's hotel at 5 a.m., "reeking of bitch and booze," was not exactly what team owners, managers, sportswriters, and fans expected from their idols. Bo was suspended, arrested, banished to the minor leagues, traded, and traded again and again, which confused him. Bo never understood an essential fact of celebrity in those days. He never had that knack of later, more beloved playboy athletes like Joe Namath of cultivating his persona precisely up to, but not beyond, that point at which his public would become annoyed, bored, and eventually furious with him. By the time Bo left baseball his name had become synonymous with dissipated talent.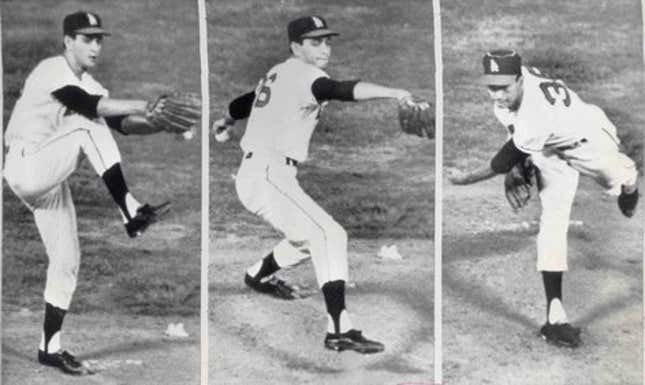 Tom Brady knocks up an actress, Bridget Moynahan, and it adds to his public luster. It makes him cooler than his reputation as an automaton quarterback. It all began with Namath and Ali, the first egocentric athletes to manufacture a "faux cool" persona for fans that embellished their achievements, made them more famous rather than, in Bo's case, less. They screamed to be noticed, "I am the Greatest!" (I interviewed Ali once and he was the most scared, insecure athlete I'd ever talked to, which is why he was constantly screaming he was "The Greatest," to reinforce his own fragile psyche) and in the process pollinated a host of imitators. Deion "Prime Time" Sanders, Dennis Rodman, Terrell Owens, Occhouno or whatever the fuck his name is these days. I interviewed Sanders once in Hagerstown, Md., where he was playing baseball with a Yankee minor league team while waiting to sign an NFL contract. He was sullen and non-communicative to me, a print reporter, but when a local TV station came to film him he became voluble, outrageous, Neon Deon for the cameras. Which was how he became a famous personality before he was a successful NFL player. Bo had no concept of how to commercialize his "cool" because that wasn't in his DNA. He didn't want to be famous for being cool, he just wanted the freedom to be himself. And that self was genuinely cool.
I met Bo in 1972, two years after he left baseball. He was still handsome then, although a little dissipated, which actually made him more handsome, more substantial-looking, less pretty boy. Bo was tall and lean, with curly black hair like Tony Curtis, tanned skin, and those flat, Latin-looking features of Mexican cowboys … if they happened to be Polacks from Trenton, N.J. Despite his masculinity, there was something vaguely feminine about Bo, the way he moved, lightly, on the balls of his feet, his mannerisms, the way he brushed a lock of hair off his brow with mesmerizing slowness. I was hypnotized by him. The coolest man I'd ever met. So cool, in fact, that instantly I desperately wanted to be like Bo, off-handed, ironic, valuing nothing, playing everything for a laugh, especially himself. He lived his life as if he were watching a movie unfold from the cheap seats. Watching himself self-destruct, with amusement. The coolest man I'd ever met. Me, a married sportswriter with a wife, five children, and a mortgage. It was ridiculous. I could never be like Bo. I was nothing like Bo. I … Took … Myself … Seriously. But if only I could step out of myself, how cool that would be. (Oddly, Bo seemed to like something about me, too, something as strange and exotic to him as his cool was to me. He called me "Shakespeare," impressed with the fact that I wrote for a living, as if I had a font of knowledge and discipline he did not have. Bo was a sensitive man but without the self-analytical gene. He perceived slights, was hurt, brooded, but never understood.)
Bo was living in a cathouse in the Hollywood Hills. Women sunbathed topless by the pool. Bo and I sat on a sofa, drinking vodka at 10 a.m., Bo oblivious to those bare-breasted women I gawked at. Bo never chased pussy, he attracted it as if he had a scent that drove women wild. Strange men rang the doorbell, came inside. A woman came in from the pool and led the men upstairs.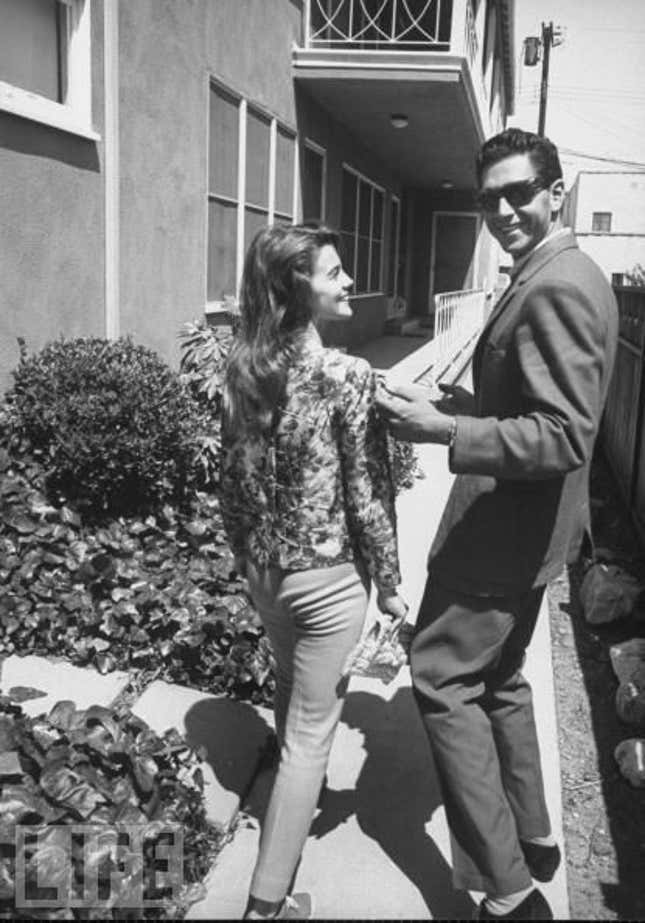 Bo told me stories. The time he was drunk with a Playmate named Jo Collins (who eventually became his wife) while they drove down Sunset Boulevard in his lipstick-red Cadillac convertible, and she said something that annoyed him, so he ripped off her wig and threw it into the street. The time he climbed out of a team hotel room window after bed-check, partied with Ann-Margret until 5 a.m., then he pulled up in a taxi to his hotel, only to discover it was on fire, everyone, including his manager, was standing on the sidewalk in their pajamas, watching, as Bo stepped out of his taxi. The next day, he was back in the minors.
Bo liked the minors. He had more freedom there. No one watched him like a hawk. Only the pussy was different, waitresses, barmaids, not movie stars. One year Bo played in Pensacola in a Class D league. He roomed with two other left-handed pitchers, Steve Barber and Steve Dalkowski. They were the hardest-throwing, wildest pitchers in baseball, on the field and off it. They were wild men who walked and struck out prodigious numbers of hitters, and, after the game, drank prodigious amounts of alcohol, and, in Bo's case, fucked prodigious numbers of women. They were legendary in minor league folklore, in good part because they may have been the only minor league pitchers ever to give their manager a heart attack. Everyone could see it coming. Almost every night their manager would get a 2 a.m. call from the local police chief, asking him to come down to the jail and bond out one, if not all three, of his wild pitchers who had been arrested in a drunken brawl. One night, the three had a brilliant idea. One of them called their manager at 3 a.m. and impersonated the voice of the county coroner. He told the manager he had a baseball player on the slab in his morgue. Could the manager come down and identify the body? That's when the manager had his heart attack. But he didn't die. He just went home to recuperate while some other poor bastard took over the care and feeding of his three crazy lefties.
That night, Bo and I, and three of the women from the house, went out to dinner on Sunset Strip. Two of the women draped themselves over Bo during dinner. The other woman was all over me like a wet suit. I was not deluded enough at the time to think that she'd found this married writer the sexiest guy she'd ever met. I assumed Bo had put her up to it, told her, "Give the poor guy a good time." But it was embarrassing for a man who had never got that kind of attention from women before. I felt like a fool with one of Bo's leftovers.
After dinner we went to the Candy Store. While we drank at a table, men and women came up to Bo, smiling, shaking his hand, as if they were having an audience with a potentate. When one particular guy came walking toward us, one of the women said, "Heh, Bo, that guy's doing an impression of Hugh Hefner." Only it wasn't an impression. It was Hef, who knew Bo through Bo's relationship with Jo Collins, a former Playboy centerfold. Hefner invited us to the mansion, along with Bo's friends, small-time hustlers, and we all drove out there to Holmby Hills in a caravan of cars.
Nothing much happened at the mansion. We all sat around drinking and talking until 4 a.m., and then we left. Bo was furious. I asked him why. He said, "Did you see my friends buzzing in Hef's ear all night, trying to interest him in their scams? It's fucking embarrassing. I took them out there to have fun and all they're doing is trying to rip off Hef."
Bo died on Nov. 23, 2001, of a heart attack. He was 64. Sober then. A car dealer in Vegas. A born-again Christian. "Can you imagine," he said, "finding Jesus Christ in Las Vegas?" He had been married and divorced twice. No children. His first wife was Playmate of the Year. His second wife was an heiress named Janie Weyerhaeuser. Bo had met her in Hawaii where he'd played a lot of his minor league ball. Hawaii was the perfect spot for Bo after baseball. No money, no prospects, but still a good life to live on the cheap. The sun, the broads, the laid-back living on sponge cake in Margaritaville lifestyle. One afternoon he was lying on the beach, working his tan, when he saw a woman out in the water, waving her arms, screaming, splashing frantically, drowning. Bo rescued her. She rescued him right back. She married him. I like that story. So Pretty Woman in reverse. So cool. So Bo.
Portions of this story were used in Pat Jordan's "Once He Was An Angel," published in a March 1972 issue of Sports Illustrated. Read more of Pat's work here.
Image by Jim Cooke.