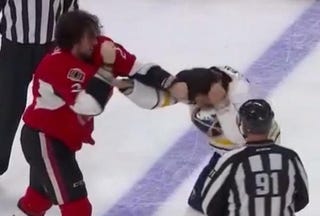 Last night, Sabres pest Patrick Kaleta punched himself in the head. Really! Look:
Today, reporters asked Kaleta why he punched himself in the head, because Sabres-Senators ain't exactly selling newspapers these days. Kaleta was kind of at a loss:
Kaleta said had no clue he punched himself in the head Monday during his ferocious fight with Ottawa's Jared Cowen until someone informed him.

Kaleta's cool with his unusual move, though.

"Hey, if that's what it takes to win a fight, then that's what happens," he said today after the Sabres practiced in HarborCenter.

Naturally, friends have been sending Kaleta the video. What happened? How does a veteran who has fought regularly throughout his career send his own left fist into the side of his head?

"From the looks of it, when he switched up, I was looking to block myself so I didn't get hit in the face," Kaleta said. "So even though it looks like I did, I don't really think I did."
Nah dude, you totally punched yourself in the head.