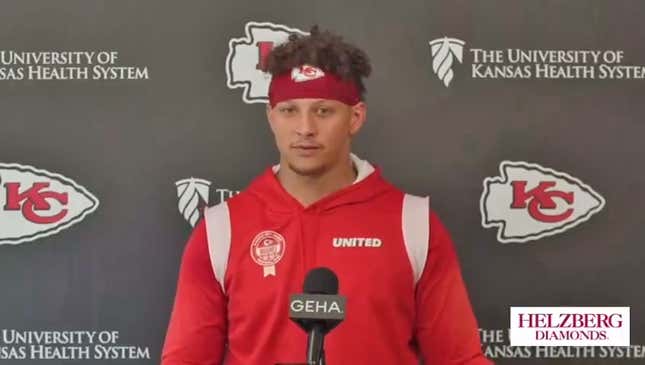 Being the best quarterback in the NFL is always going to pay handsomely. That player will have one of the highest salaries in professional sports and also be able to cash in on prime endorsements. Whether the contracts are with Subway, State Farm Insurance, or the Kansas City Chiefs, Patrick Mahomes will always be greatly compensated.
Mahomes or Hurts? Who will win NFL MVP? | Agree to Disagree
When Mahomes signed his first contract extension prior to the 2020 season not only did he take a small, team-friendly discount, but he also inked it before the NFL agreed to new television deals in 2021. Three years after receiving that 10-year, $503 million contract, by average yearly salary Mahomes is the seventh-highest-paid quarterback in the league.

By the start of the 2023 season, Mahomes will likely be the NFL's ninth-highest-paid quarterback. Rookie quarterbacks who turn into stars generally get their mega-contracts in the offseason prior to Week 1 of Year 4. That means Joe Burrow and Justin Herbert will likely soon be $50 million per year players. At Chiefs' OTAs, Mahomes was asked about his current contract situation.

"You just want to do whatever to not hurt other quarterbacks whenever their contracts come up," Mahomes told the media. "You wanna keep the bar pushing. It's not about being the highest-paid guy. It's not about making a ton of money.

"I've made enough money where I'll be set for the rest of my life. At the same time, you gotta find that line where you're making a good amount of money, but you're still keeping a lot of great players around you so you can win these Super Bowls and you're able to compete in these games."
Patrick Mahomes has earned his money by winning the Super Bowl, MVPs
Keeping the Chiefs competitive and under the salary cap is not Mahomes' responsibility. The franchise pays people good money to do that math. If the problem of assembling a roster becomes too great, then Clark Hunt can say at the next owners' meetings that the league shouldn't be placing restrictive limits on how much the franchises are allowed to spend on players.

Mahomes' responsibility is to take care of his family. Financially, he doesn't have to lift a finger to accomplish that for the rest of his life. That is a wonderful place to be in as a professional. He can choose to accept less money to be happier at work and the sacrifice will not impact his lifestyle.

A lovely Disney film, but Mahomes does live in the U.S.A. Being the best laborer in his industry does come with responsibility. Not only must he lead his team, but he has to demand a salary that maximizes the bargaining power of the rest of the NFLPA.

Assuming that he stays healthy, a one-of-a-kind talent like that not renegotiating his contract before it expires — especially after winning another MVP and Super Bowl — would harm negotiations for the rest of his NFL brethren. Without guaranteed contracts, players have to stuff every dollar they can into their pockets from their limited time inside the league's money machine.

While Mahomes will probably enter the 2023 season as the ninth-highest-paid quarterback, don't expect that to last too many more years. He certainly enjoys the strong roster that he goes to battle with on Sundays, however, he is a professional football player. This is not a health club league.

Not only his teammates in the locker room, but also his teammates in the union depend on the guy with the bath bombs in the State Farm commercial to lead the way. The NFL is about more than touchdown passes, it's about financial security.