It took all of one game for newly installed Avalanche coach Patrick Roy to lose his mind and physically destroy arena equipment. We missed you, Patrick. The NHL was just a little too sane without you.
The fun started in the closing seconds of Colorado's 6-1 victory over Anaheim, as Roy sent enforcers Cody McLeod and Patrick Bordeleau on for one final faceoff. The scrum ensued as expected, with Ducks coach Bruce Boudreau and Corey Perry directing their ire at Roy. So Roy, still every bit the fiery lunatic he was in his playing days, charged the glass partition separating the two benches and knocked it off its moorings.
After order was restored, there was plenty of blame to go around. Roy said McLeod and Bordeleau were only out there because Boudreau had his own fourth line out—"I matched his lines all night." Boudreau said he was mad at Roy "yapping at players. I told him it was bush league."
"(Roy's) going to be in for a long year," Boudreau said, "if he's going to yell at every player and yell at the refs at every stoppage of play. It's not the way the game is played."
Roy's anger, if not his reaction, is totally understandable. He was furious at Ben Lovejoy's knee-on-knee hit on prized rookie Nathan MacKinnon, which wasn't whistled by the officials. "I don't think this league needs that type of cheap shot," Roy said.
It was a dirty hit, but the Lovejoy-MacKinnon beef went back to the second period, when the two were attached at the hipcheck for a feisty shift that ended in shoves.
G/O Media may get a commission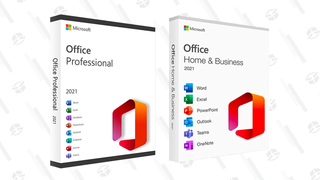 89% off
Microsoft Office Professional 2021 Lifetime License
The most common (and strongest) argument for fighting in hockey is that it serves to police the game. This was a textbook example: the first overall draft pick getting knocked around to the extent of potential injury. Though the game was just about over, these teams play twice more—and the league now knows that you won't be able to go after MacKinnon without consequences. The counterargument is that on-ice retribution wouldn't be necessary if illegal and dirty plays were punished by the guys whose job it is. If the linesman, who was right there for Lovejoy's hit, had called a penalty, the extracurriculars don't happen, and maybe Patrick Roy doesn't throw a tantrum after a game his team won by five goals.