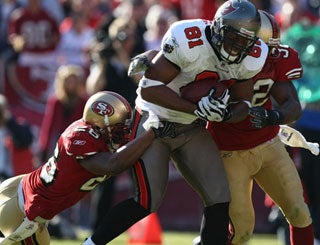 Because that's pretty much all the 49ers have left to stay motivated at this point. Their record helps that pick they famously gave to New England continue to plummet. A silly little upset of Tampa Bay puts them at 5-10 and currently the Patriots pick 8th.
Luke McCown could have tied the game with a 2-point conversion to Mark Clayton, but it just wasn't good at all because Clayton's tippy toes landed on the back end zone line. Your receiving abilities are bad and you should feel bad.
This was also San Francisco defensive tackle Bryant Young's final home game. He's retiring? I didn't even know he was sick. 49ers 21, Bucs 19
With the game well out of reach, CBS showed a picture of Bill Belichick's beloved St. Louis Rams voodoo doll. Of all the things I make up on the fly, this is not one of them. This might explain the pinpricks found in Marc Bulger's ribs. Also, I'm having trouble discerning when the game ends and the "60 Minutes" interview with Tom Brady begins. Patriots 28, Dolphins 7
Vince Young makes about half his throws and is responsible for a couple of touchdowns. Yes indeedy, just another routine win for Tennessee. If they beat Indianapolis next week — and it sounds like Colts will not play any starters, since their playoff future is already in stone — they steal the final Wild Card seat from Cleveland. Titans 10, Jets 6
Hats off to the Baltimore Ravens for not getting shut out. That's really all I can say about this one. Seahawks 27, Cardinals Ravens 6
I know what you're thinking. The Cardinals-Falcons game has to be the best one. But it's in overtime. And it's the Cardinals and Falcons. So screw 'em. Time for Hungry Howie's.
UPDATE: Cardinals nail a field goal in overtime. All is well in the desert.