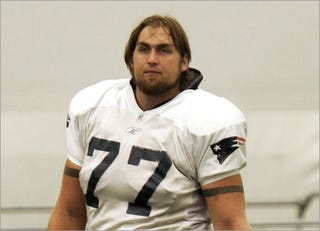 Well, here's a bizarre story from the land of the Chowdah heads: Nick Kaczur, the New England Patriots offensive lineman, has according to the Boston Globe been secretly helped the DEA nab a major illegal prescription drug supplier. Kaczur was arrested last April for illegal possession of oxy and then helped the police nab the dealer who was supplying him:
Kaczur — a 28-year-old, 315-pound offensive tackle — wore a hidden recording device during three different drug transactions in May at gas stations in Foxborough and North Attleborough and a supermarket parking lot in Sharon, according to the lawyer, the two people, and federal court documents. At each of the three transactions, Kaczur paid $3,900 in cash to buy 100 OxyContin pills, a potent prescription pain reliever.

Federal agents arrested the alleged dealer, Daniel Ekasala, moments after the third transaction with Kaczur, said Ekasala's lawyer. He was indicted by a federal grand jury yesterday on three counts of possession of oxycodone (the main ingredient in the prescription drug OxyContin) with intent to distribute. He is due to be arraigned today in federal court.
I wonder if any of the recordings discovered by police contained any audio loops of the Jets cheerleaders.
Patriot arrested, then aids drug sting [Boston Globe]