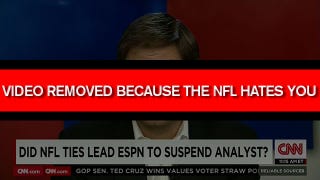 The Peyton Manning-less Denver Broncos handed New England their first loss of the season in overtime in the middle of a Colorado blizzard tonight. C.J. Anderson sealed it with this run from 48 yards out on a toss play on third-and-1. Carolina is now the only undefeated team left in the NFL (probably). The win for Denver, however, was not without its fair share of drama and controversy late in the game.
The Broncos avoided a potentially crippling third-and-goal from the 19-yard-line as a rather specious defensive holding call against Patriots defensive back Patrick Chung wiped out a sack on Brock Osweiler. While Chung certainly made contact with Demaryius Thomas, the touch hardly impeded Thomas' progress.
Denver scored on the very next play, but New England drove down the field with 69 seconds left just far enough for a Stephen Gostkowski 47-yarder to send it to overtime. That drive itself was not without controversy, as Denver was forced to remove an injured player sans timeouts. The clock continued to run, much to the ire of Bill Belichick, but the referees did the right thing on that play.
[NBC]