The Cavaliers nearly blew yet another fourth-quarter lead this evening, but because the Pacers are clunky and mediocre, and the Cavaliers employ LeBron James, Kevin Love, and Kyrie Irving, they did not blow yet another fourth quarter lead. The Pacers are heading home down 2-0, and despite the potentially encouraging pattern of the Cavs ceding big leads and refusing to play defense, there is scant hope that they can come back and Do It. That's not a surprise, but it's a bit of a shame, since Pacers star Paul George has been tremendous.

Tonight, George went for 32 points on 20 shots, eight rebounds, and seven assists. He's been Indiana's best player in both losses against the Cavs, going for an almost identical line in Game 1 in a nearly indistinguishable loss. Even when LeBron James checked him, George didn't struggle to get his shots off and get into the lane. Indiana's offense is maddeningly static thanks to Nate McMillan's penchant for, let's say, contemplative basketball. Jeff Teague never has a problem getting into the lane and Monta Ellis remains a mad man in the pick-and-roll, but the Pacers have precious little shooting, and while Myles Turner will be a beast very soon, he isn't quite ready to take over games. There's a reason the Pacers had to win their last five games to get into the playoffs at the last second.
This leaves George to create a ton of the offense for Indiana, a job which he's at least suited for. He's shooting 55 percent from three in the series on 18 shots and knows how to find cutting teammates when he drives. The Cavs occasionally threw pressure at George in a hybrid zone/strong side look, and he didn't seem too rattled by it. It helps that the Cavs don't have a rim protector. George also kept the Pacers in the game at the death, making a wild leaner, two free throws, and a huge three to keep pace in the ultimately futile attempt to win.
Oh, right, he also dropped this hammer.
G/O Media may get a commission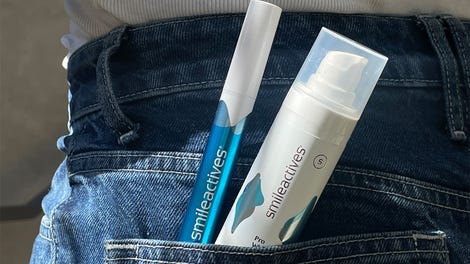 58% off
Whitening Powerhouse Pen & Gel Duo
And nearly finished Kevin Love.
Barring Lance Stephenson simultaneously injuring the entire Cavs starting lineup at once, Indiana is not going to win this series. The Cavs don't look sharp but they don't really need to to beat the Pacers. This joke from LeBron just about sums it up.
Paul George will try and drag the lifeless Pacers over the line, and he will most likely fail. I would love to see him fight the Cavs and win, or at least test the limits of Cleveland's fragile defense, but alas, he plays for a team that has neither the depth nor the firepower to truly push for a series win.
Update (11:48 p.m. EDT): He ain't happy.